Great Northerns showcase jumps racing in grand season finale
By Dennis Ryan
20 Sep 2023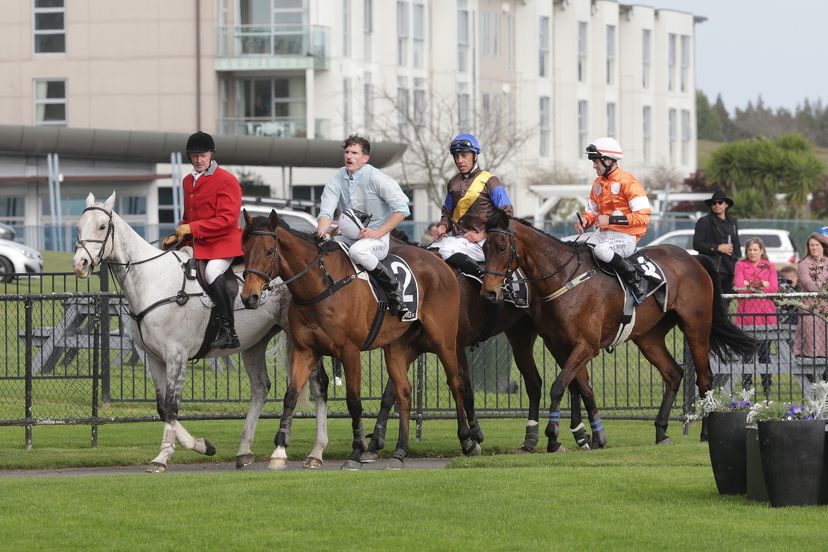 Nedwin (Aaron Kuru) leads Tahuroa Heights and rookie Kylan Wiles over the last on his way to victory
As a grand finale for the jumps season, Great Northern day at Te Rapa last weekend could not have been better.
Admittedly the 2023 jumps season will not be complete until after Woodville on Sunday week, but as far as the Prestige Jumps Race calendar is concerned, this was the perfect curtain call.
Modern day weight carrying records were the order in both features, with Nedwin carrying 71.5kg to victory in the Peter Kelly – Bayleys Great Northern Hurdle, and West Coast proving even more emphatically that weight does not always stop trains as he lumped 73kg in the Ben & Ryan Foote Racing Great Northern Steeplechase.
Leading jumps jockey Shaun Fannin didn't have a ride in the Great Northern Hurdle, which remains the big one he has yet to win, but he has more than made up for that. Sunday's win took his Great Northern Steeplechase tally to five after previous wins on Kick Back in 2016, Wise Men Say (2019), Magic Wonder (2020) and Kiddo last year. He now shares the record with Isaac Lupton, who partnered Hypnotize in all three of his wins over the Ellerslie hill.
The statistics update also saw Nedwin's trainer Paul Nelson extend his record of Great Northern Hurdle wins to six – the last three of those in partnership with Corrina McDougal. Intriguingly, neither Nelson nor one of the other major jumps trainers of the past three decades, Mark Oulaghan, arrived at Te Rapa on Sunday never having won the Great Northern Steeplechase.
Both were well favoured to change that with their respective equal topweights The Cossack and West Coast, but only went home a winner. And even then it almost didn't happen as the one-win lightweight Captains Run charged late and failed by a short neck to spoil the West Coast party.
To the credit of both the West Coast and The Cossack camps, the 2023 Great Northern Steeplechase will be remembered by every person in the packed grandstand as one of the best ever jumps racing contests.
Shaun Fannin and Aaron Kuru were a combined masterclass as West Coast and The Cossack each took their turn setting the pace at a well measured tempo. Neither was letting the other out of his sight, and only when West Coast hit his well-known flat spot with 1200m to run was there more than a length or two between them.
That move by Kuru was to be expected – and not necessarily because he had used similar tactics in his win on Nedwin three races earlier. Both riders knew not only their own mount's strengths but the other's as well, however there was no shaking the dual Grand National winner. The two mighty jumpers eyeballed each other through the last 800m and when West Coast met the last of 32 fences perfectly and those immense depths of stamina and strength at full bore, he looked home for all the money.
Into the final 100m Captains Run, from distant third over the last fence, suddenly emerged through the inside and was whittling into the lead when the post came up.
But there was no denying West Coast his most famous victory, making him the first since Hall of Fame jumper Brookby Song way back in the 1940s to win the Wellington, Grand National and Great Northern Steeplechases in the same year.
At Te Rapa part-owners Henry and Gaby Williamson were all but lost for words, Oulaghan was his usual unflappable self, while in the South Canterbury settlement of Twizel, octogenarian part-owners Ron and Jennifer Williamson were celebrating their mighty horse's latest achievement.
Even in defeat, jumps enthusiasts share each other's good fortune. While The Cossack's connections accepted their horse did his absolute best, co-owners Paul and Carol Nelson joined with fellow owners Mick and Susie Gardner in Nedwin's Great Northern Hurdle success.
There was also plenty to take away amongst those placed behind Nedwin. First-year jumps jockey Kylan Wiles was beaming like a winner after the Stephen Ralph-trained Tahuroa Heights had given the country's best hurdler a run for his money, and that ageless lady known as Ann or Mrs Browne had the joy of seeing jumps racing's most famous colours cross the line third on Ima Wonder, a daughter of 2011 Great Northern Steeplechase winner Ima Heroine.