Wekas rule on the final day of a famous Championship hand
By Dennis Ryan
12 Apr 2023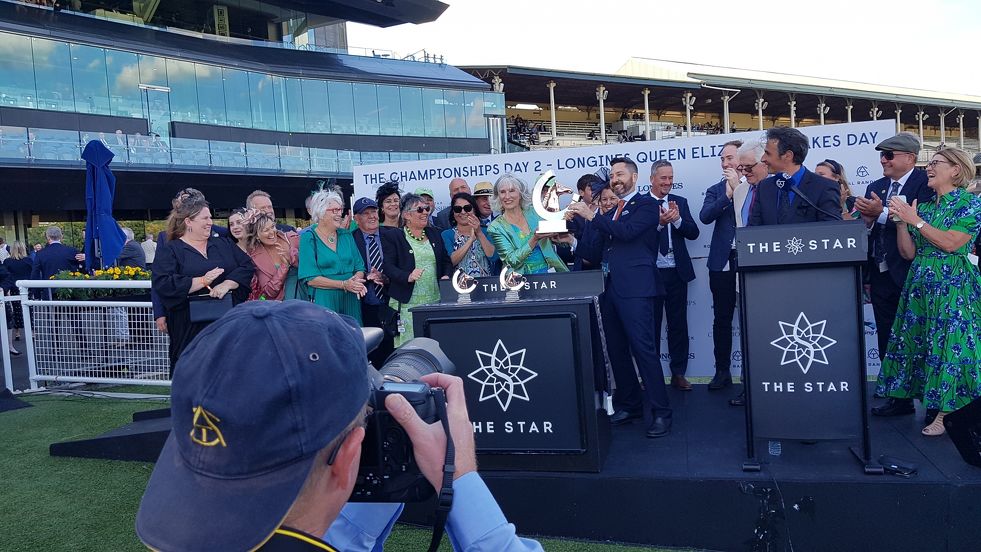 Head Weka Janine Wallace accepts the trophy that went with Pennyweka's "unbelievable" Randwick
The Aussies must be thanking their lucky stars there's going to be minimal New Zealand involvement in the final day of the Sydney autumn carnival at Randwick this weekend.
The showcase of racing in Australia's wealthiest state has added multiple layers to what has been an extraordinary season across the Tasman for New Zealand-bred horses, many of them also owned and trained in their country of origin.
To recap, three weeks ago at Rosehill, Prowess and Tapildoodledo won the Gr. 1 Vinery Stakes and Gr. 2 Tulloch Stakes, on the opening day of The Championships the Kiwi-breds scooped all four Group Ones with I Wish I Win, Mr Brightside, Major Beel and Militarize, then on Saturday Pennyweka, Explosive Jack and Atishu took three of the four Group Ones on The Championships' second-day card.
The fourth Group One – and the most valuable with a purse of A$5 million on the Queen Elizabeth Stakes – was the only major that escaped us. That went to the Irish-bred, English-trained Dubai Honour, whose clash with local star Anamoe had been billed as a match-race carnival climax.
James McDonald gave Godolphin's record-breaking Group One winner a perfect run and match-race predictions looked like being fulfilled as Dubai Honour and Tom Marquand loomed alongside. But the match-race lasted for only 100 metres halfway up the Randwick straight.
That's how long it took for Dubai Honour to dispatch Anamoe as he charged clear in a display of total dominance. Rubbing salt into local wounds, NZ-bred Mo'unga stole second place from Anamoe right on the line.
Kiwi raiders have feasted on Australian racing riches for the best part of a century, however it's been only in the past few decades that the rest of the world has become aware of what was on offer, then involved and rewarded. Robert Sangster and the Arab sheikhs who went head-to-head with him in Europe during the 1970s were the first to venture south and enjoy success in Australia's most famous race of all, the Melbourne Cup.
Then Irishman Dermot Weld – as astute as any to emerge from the Emerald Isle – laid the platform for greater involvement when he sent Vintage Crop to the 1993 Melbourne Cup carnival and landed the victory that was to radically change the landscape of racing in this part of the world.
Many others have followed since, with such force that the Melbourne Cup has been turned on its head to the rancour of many, from the late Cups King Bart Cummings down. European-bred imports have become the norm in most of the top local stables, and as evidenced by Dubai Honour's Queen Elizabeth Stakes win at Randwick – the third in four years in fact for Newmarket trainer William Haggas – the new order has impacted across the board.
But do you know what? As much as we over here on the Shaky Isles might lament how difficult it is to even get a start in the Melbourne Cup, and how challenging the Northern Hemisphere horde might be, New Zealand can still produce – in many cases also prepare – horses that are more than a match.
Australian middle-distance classics have long been a well-rewarded target and will continue to be given the age advantage we have over the Northern Hemisphere. However the past year or so has been a revelation in our range of opportunities.
NZ-bred and owned (and originally locally trained) mare Roch 'N' Horse shook the air of Australian sprinting invincibility with her Newmarket-Champions Sprint double down the famous Flemington straight-six.
Imperatriz – admittedly Aus-bred but definitely NZ-owned and trained – added last month's Gr. 1 William Reid Stakes, and most recently I Wish I Win has confirmed his place at the top of Australian sprinting ranks with his Gr. 1 TJ Smith Stakes victory.
Earlier in the autumn NZ-bred, owned and trained filly Legarto claimed her own piece of racing history by winning the Gr. 1 Australian Guineas and fellow members of the three-year-old filly crop have continued to dominate. Prowess took her Bonecrusher NZ Stakes form to Rosehill last month with an arrogant win in the Gr. 1 Vinery Stud Stakes and we saw more of the same at Randwick last weekend via the pride of Masterton, Pennyweka.
While I was well tuned into her after her New Zealand Oaks win, I hadn't set eyes on the Satono Aladdin filly until a couple of hours before the Australian Oaks. There the slightly-built dark bay was in the tie-ups, alongside fellow Kiwi girls Levante and Polygon, completely oblivious to all that was happening around her.
"That's just her, no matter what, nothing worries her," trainer Jim Wallace responded with no prompting to my bemused expression. "Before she came over here she had never spent a night away from home, but she's taken it all like an old hand, it makes my job easy."
Wallace's modesty disguises his own ability to adapt around horses, having been instilled by his late father Jim, a respected equine veterinarian, studmaster and horseman. From what is now an enclave from former significant racing and training centre, Wallace is content to ply his trade at Opaki racecourse, on the northern outskirts of Wairarapa's major settlement of Masterton and just down the road from the Wallace family's Ardsley Stud.
"We're a bunch of small players but we still get our share of wins," says 76-year-old Wallace in reference to his fellow bunch of active pensioners, the likes of Alby MacGregor, Gerald Innes, Roger Allen and New Zealand racing's oldest licence-holder, nonagenarian Brian Marriott.
"What most people don't realise is that Opaki is one of New Zealand's biggest racecourses, 2600 metres round and the longest straight. Being able to train a horse there is great, it allows you to do basically whatever you want, we've got every type of track we need and about the only thing we don't have is a swimming pool."
Wallace chuckles with a mix of satisfaction and admiration when it come to the star of his two-strong racing string, the one he bred in partnership with his brother Les from a mare tracing to their father's very first broodmare.
"She's an absolute doll, I knew early on that she had something, but would I have ever dreamed we'd be doing this – of course not!"
The other major player in the Pennyweka story is Les Wallace's wife Janine, who set a goal to share her passion for racing by establishing a series of syndicates under the very original Galloping Wekas moniker.
Green is their colour of choice when it comes to raceday garb, from the distinctive bright green caps that were clearly visible from the time you stepped foot on Royal Randwick last Saturday, to the pastel elegance displayed by Janine and her fellow female Wekas.
"The Oaks at Trentham was fantastic but this is something else, simply unbelievable!" she said as she attempted to harness her emotions while Pennyweka and Damian Lane returned to rapturous applause.