The one and only Sir Patrick Hogan
By Dennis Ryan
11 Jan 2023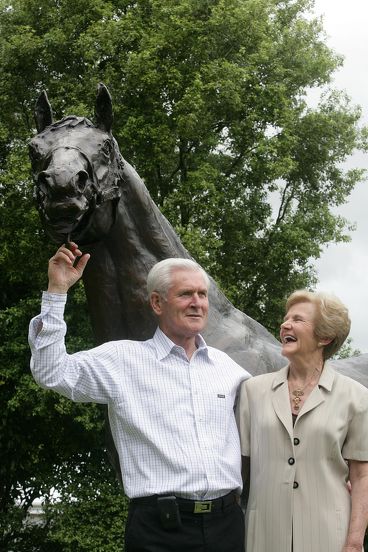 Sir Patrick and Lady Justine Hogan with the magnificent bronze of Sir Tristram, the inspired choice
In the racing and breeding world through the final decades of the 20th Century and into the 21st, there was only one man who everyone knew quite simply by the name "Patrick".
Where ever you might have been over the past four decades, that stand-alone descriptive was recognised without the need for any further qualification. It stood for excellence in one of the most demanding of endeavours and it defined someone determined to succeed as he set standards never seen before in this country and beyond.
Sir Patrick Hogan was different things to so many – first and foremost a family man proud of his Irish heritage, in his wider circle a competitive but loyal mate and supporter, to countless staff the best boss and mentor you could wish for, and to the New Zealand breeding industry its greatest ever promoter, contributor and achiever.
I count myself as one of the many, someone who had the privilege of knowing him for more than 40 years, and to be so much richer for that. Our acquaintance dated to the mid-1970s, around the time Cambridge Stud was founded on its original 135 acres, purchased by Patrick and Justine Hogan with a hefty mortgage that left no option but to put their heads down and work.
That came naturally, hard work having been their mantra from the time they had married 15 years earlier and were part of the team at the Hogan family's Fencourt Stud. The premature death of that nursery's best ever stallion, Hermes, was the catalyst for a life-changing decision to purchase their own property and take a chance.
After a global search and dogmatically ignoring well-meaning advice, the 35-year-old studmaster singled out Sir Tristram as the horse with the bloodlines to be his foundation stallion. The moderately-performed Irish-bred son of champion racehorse Sir Ivor was syndicated at $4,000 per share for a landed value of $160,000.
I was working in Ireland by the time Sir Tristram's first crop stepped onto the track, and in early 1981 I was invited by Irish National Stud manager Dr Michael Osborne to join a group of local studmasters at a parade of the stud's resident stallions.
Amongst the line-up was Malinowski, a son of Sir Ivor rated the champion Irish two-year-old of 1975 and with his first crop about to race. Sir Ivor, rated by Vincent O'Brien alongside Nijinsky as one of the two best horses he ever trained, had yet to leave anywhere near his equal and the jury was out with regard to the merits of his sire sons.
I still recall Michael Osborne's words to the gallery as Malinowski paraded: "We're still waiting to see where Sir Ivor might be up to as a sire of sires," he said, "but there are some encouraging reports coming through about one of them at stud down in New Zealand."
That horse was, of course, Sir Tristram. From his first crop, numbering just 37 foals in 1977, the Geoff Murphy-trained Sovereign Red had set a standard that would be repeated time and again by winning the Gr. 1 Caulfield Guineas, VRC Derby and WATC Derby in late 1980. The following autumn Tasman became Sir Tristram's second classic-winning son in the Gr. 1 South Australian Derby, and the rest is history.
Cut forward to April 2005 and my first trip to Hong Kong for the Audemars Piguet International meeting, headlined by the Gr. 1 Queen Elizabeth ll Cup. Sir Tristram's reign at Cambridge Stud was over, but his son Zabeel was well on the way to emulating him.
Zabeel had two runners in the feature weight-for-age 2000m, Cambridge Stud-reared Vengeance Of Rain and US-foaled, South African-trained Greys Inn. What a thrill to see them fight out the finish and it was an easy phone call back to New Zealand, where late that Sunday night Patrick Hogan was basking in yet another momentous result.
"Make sure you remind everyone up there where those two horses come from," were the master marketer's instructions. Perhaps naively for this first-time Hong Kong reporter, I relayed the point to the international press at the media conference that closed the day's proceedings. They might not have wanted to hear it, but they did anyway in my belief that the laird of Cambridge Stud – and New Zealand – deserved the kudos.
In common with his studmaster colleagues, Patrick Hogan recognised the value of a proactive relationship with the media. That was an understandable part of his approach to the business at hand, whether it be yearling sale time, the lead-up to the stud season, or at the races enjoying the success of horses carrying his two-tone green colours.
He never held back when it came to promoting the Cambridge Stud brand, but with the facts to back him, he was well equipped and had every right to that licence.
A one-on-one with Patrick – most times from behind that big oak desk in the Cambridge Stud office – was always something to look forward to, and on occasions led him to reflect on his philosophies and principles.
He had become well-tuned to dealing with the flood of bookings that his champion stallions attracted, and as he explained succinctly – even in the face of the supposed duties of a syndicate management committee – there was an easy solution.
"When it comes to making those decisions," he said, "the best committee is a committee of one – me!"
On a more personal level, several years ago he shared with me – as he no doubt did with others – the quandary he faced over the future of Cambridge Stud.
"For all the success I've had, the one thing I'm missing is someone to step into my shoes here," he said. "All the big stud guys – Garry (Chittick), Nelson (Schick), Buzz (Williams), Ron (Chitty)and others – they've all got that side of it sorted, but I've got to decide what's best for Cambridge Stud."
The size and scale of the New Zealand breeding industry meant that a local buyer for the hugely valuable operation was virtually out of the question. That left offshore interests, of which there had been overtures going back a number of years, and as time went on had gathered momentum.
The most pressing challenge was the prospect of Cambridge Stud changing ownership with no guarantee of its longevity under a similar model. Then in late 2017 Auckland couple Brendan and Jo Lindsay, divested of their Sistema Plastics manufacturing colossus, made an approach that resulted in their purchase of the stud as a going concern.
The changes that have since taken place at Cambridge Stud are clear to see, but the Lindsays' ongoing investment, in particular the impressive Heritage Centre, struck a responsive chord with Sir Patrick.
His valued input to the unique Sir Tristram replica and other aspects of Cambridge Stud history was a massive mark of respect to the man without whom none of this integral part of the New Zealand breeding industry would have ever come to be.
Sir Patrick's funeral was scheduled to take place in Hamilton as this edition went to print, a final farewell for family, friends and colleagues to a man the like of whom we will never see again.
The man who will always be known as Patrick.