Te Akau supremo David Ellis and strapper Liam Cunningham escort Karaka Million 2YO winner Dynastic a
By Dennis Ryan
26 Jan 2022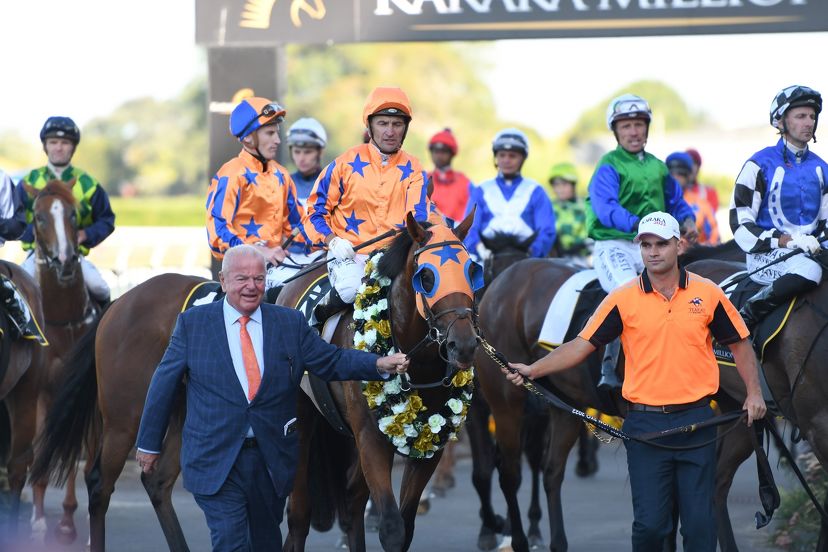 Te Akau supremo David Ellis and strapper Liam Cunningham escort Karaka Million 2YO winner Dynastic a
"And none paraded better on the night, the gorgeous bay exuding class as he strolled around the Ellerslie parade ring".
I have a confession to make.
Could be the cynical journalist in me, but seven, maybe eight, years ago I wasn't sure what to make of the Karaka Million twilight race meeting. A lifetime of race-going across the spectrum, from Ellerslie to Trentham and Riccarton, to Flemington, Moonee Valley and Randwick, to Sha Tin, Longchamp, Ascot and the Curragh, gave me a first-hand reference point to what constituted a truly memorable raceday.
Any misgivings around those early Karaka Million gatherings were based on whether a $1 million juvenile dash for cash on the eve of the National Yearling Sale was enough to carry it off. More might be needed to elevate the Ellerslie twilight meeting from unique to iconic status.
The years since have indeed seen a massive uplift with the stake increase of a sales graduate race for three-year-olds to $1 million in 2018 as well as the complementary addition of the Gr. 2 Westbury Classic, Gr. 3 Concorde Handicap, Gr. 3 Almanzor Trophy and Karaka Cup. Those support races all have six-figure stakes on a quick-fire six-race card, and as we were reminded again on Saturday evening, that adds up to a magical formula.
Arriving at Ellerslie last Saturday afternoon an hour or so before 4.30pm kick-off, predictions of a sell-out crowd had already been proven. Queues at the gate translated to the same inside the course at function venue entranceways and by the time the Karaka Cup was run and won by Rapid Falls and Leith Innes, unfettered by a $50,000 bet from the Boys Get Paid crew, the scene was set.
Dragon Queen got the better of another nail-biting finish in the Gr. 2 Westbury Classic, and then Sword of State set in motion a huge night for Te Akau trainer Jamie Richards and Cambridge Stud with a form rebound in the Gr. 3 Almanzor Trophy.
That point was rammed home in the next race when Dynastic, in just his second start, carried a mountain of money to a sixth consecutive Karaka Million 2YO victory for the training phenomenon that is Richards. The Hong Kong-bound 32-year-old is not alone in sharing that superlative.
Phenomenal is the word to also describe what Te Akau supremo David Ellis has brought to Karaka Million night. His signature is beside all six of the Karaka yearling purchases, beginning with Melody Belle in 2017, that have claimed the big prize. And the same could be said for stable rider Opie Bosson, whose only blip was missing last year's On The Bubbles ride because he was suspended.
The influence that a rider of Bosson's class has on feature race betting was never more clearly spelt out than by the flood of money that came for the Almanzor colt as soon as the riders for Te Akau's Karaka Million 2YO contingent were confirmed ahead of the final field declaration.
From lurking slightly in the shadows after his debut second on Boxing Day, then franking that form with an impressive display at the Ellerslie gallops on the Monday of Karaka Million week, Dynastic was the only horse that pre-post punters wanted once it became known that Bosson would be in the saddle.
And none paraded better on the night, the gorgeous bay exuding class as he strolled around the Ellerslie parade ring, then strode like an old hand down to the start. Bosson was happy to find a spot off a torrid pace but still close enough, and once balanced up, urged him through a gap wide enough for three buses before putting their rivals to the sword.
Awapuni filly Wolverine, who went into the Karaka Million 2YO as the country's leading juvenile, was so brave running second, while the winner's stablemates Fellini and Time Flies made their contribution to that familiar theme that Richards has stamped on the race over the past half-decade.
A clean sweep in such an important race doesn't just happen; it takes planning from the time Ellis and his selection team make their yearling choices, syndicate them and then put them through the system that begins with breaking and early education at Te Akau Stud. Matamata racecourse during the autumn and early winter is then the focus as successive groups of Te Akau babies are put through their paces, and those with the mettle required for a Karaka Million preparation begin to show themselves up.
"I'll always be grateful for the opportunities I've had since I joined Te Akau," says Richards. "The systems that Dave, Karyn and everyone else involved have put in place provide me with the perfect platform.
"I could not have done any of this without that support.
"Am I going to miss it? Naturally, but a new challenge awaits in Hong Kong and I have to admit I'm excited at the thought as well as being a little bit nervous and a little bit scared."
Dynastic's big win for a syndicate headed by breeders Windsor Park along with Cambridge and Waikato Stud wasn't the end of Te Akau's big night. Last year's Karaka Million 2YO winner On The Bubbles was the victim of a torrid run in transit and was unable to emulate his stablemate Probabeel with a Karaka Million 3YO Classic victory.
But there at the finish of the night's second $1 million race was another carrying the tangerine, rapid riser Pin Me Up and jockey Sam Weatherley. In another slight departure from the norm, the Pins filly had been a Karaka selection by expat Andrew Williams, now a bloodstock agent in Sydney, acting on behalf of client Peter Collier. Waikato-born and raised Williams has built a healthy relationship with Te Akau, which includes doing much of the leg-work at Australian sales under the restrictions of COVID that have prevented Ellis being on site.
Richards' imminent departure for Hong Kong means a new era of sorts for the Te Akau operation, but it won't be complicated given former Matamata incumbent and more recent champion Singapore trainer Mark Walker will be filling those shoes. It's easy to envisage him champing at the bit to take over a stable brim-full of talent.
In the meantime, with the Karaka Million celebrations over, Ellis is back at the all-important business of working through the Karaka 2022 catalogue in quest of his next batch of stars.
Karaka Million night had more than a tangerine hue to it. The Ben Foote-trained and part-owned speedster Babylon Berlin followed up on her Railway third with a typically brilliant win in the Gr. 3 Brighthill Farm Eminent First Yearlings Concorde Handicap, and Dragon Queen, claimed her reward in the Gr. 2 Westbury Classic.
For her Japanese-born jockey Taiki Yanagida it was a first black-type success, and for Ballymore Stables Matamata trainer Pam Gerard, vindication of her belief in the mare who had just the one win beside her name but any number of meritorious feature race efforts.
And as for the crowd who rolled up to Ellerslie last Saturday afternoon, they'll be telling their friends who might not have already heard what a great night out it is celebrating the best of racing and social interaction.