Star three-year-olds bring together diverse ownership groups
By Dennis Ryan
8 Mar 2023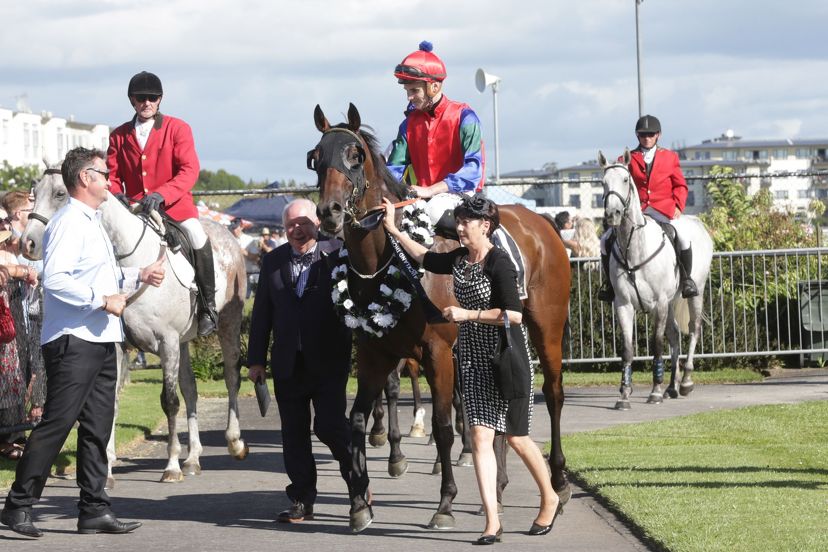 Part-owners Todd Bawdin and Merv Butterworth with New Zealand Derby winner Sharp 'N' Smart, jock
One of the most alluring aspects of racing is the pleasure that ownership can bring to people's lives.
Two of the most obvious current examples are star three-year-olds Sharp 'N' Smart and Legarto, who last weekend stamped their authority on Group One age-group races on either side of the Tasman.
At Te Rapa on Saturday afternoon the Team Rogerson-trained Sharp 'N' Smart added the Gr. 1 Auckland Thoroughbred Racing New Zealand Derby to his imposing record, while two hours later in Melbourne Legarto, trained by another husband-and-wife partnership in Ken and Bev Kelso, scored a stunning win in the Gr. 1 Australian Guineas.
Sharp 'N' Smart took his stake-earnings past $3 million and his Group One tally to three, while Legarto's bankroll after two Group One wins and a solitary defeat in seven starts is now also in seven-figure territory. It's a story in itself that both horses cost their owners less than $100,000, but the most intriguing aspect is the make-up of their respective ownership groups.
Sharp 'N' Smart went through the Karaka ring twice, first as a yearling in Westbury Stud's 2021 draft when he was knocked down to Rogerson Bloodstock for $55,000 and 10 months later failing to reach his $90,000 reserve at the Ready to Run Sale. Legarto was offered by her Bay of Plenty breeder Warwick Jefferies in the same Karaka Book 2 catalogue as Sharp 'N' Smart, selling through the Highline Thoroughbreds draft to Ancroft Stud for $90,000.
Sharp 'N' Smart's breeder Gerry Harvey, whose massive portfolio includes Westbury Stud and a widespread racing team in this country as well as the Magic Millions Sales company and extensive breeding and racing interests in Australia, retained a share in the big bay son of Redwood.
Graeme Rogerson also stayed in the partnership, joined by other familiar names such as Melbourne couple Merv and Meg Butterworth, Hamiltonian Todd Bawden and Aucklander Craig Leishman.
The Butterworths are more familiar in standarbred circles, ranging from their home town of Perth in West Australia across to New Zealand. In the harness code they're well known locally as the owners of this country's best pacer, dual New Zealand Cup winner Copy That, and an Australian-trained winner of the Addington feature, 2015 victor Arden Rooney.
Another member of the Sharp 'N' Smart ownership group is former Marlborough farmer Martin Waddy, who has a quite different profile to other members of the partnership. He didn't know Graeme Rogerson until some three years ago when he bought a Sacred Falls filly cheaply on the Gavelhouse online platform as a prospective polo pony for his Christchurch-based nephew.
That was to lead Waddy to taking shares in a handful of Rogerson-trained horses that included $500,000 yearling La Diva, a Snitzel filly who capped a run of placings with a win at Rotorua last March, only to be injured and sold as a broodmare without racing again.
"Things didn't work out so well with that one, but I got lucky when Sharp 'N' Smart came along," Waddy told RaceForm earlier this week. "I took a share a in him with the idea of bringing him back for the Ready to Run Sales, but we ended up keeping him when he didn't make his reserve.
"I always liked him, right from the start he was a good mover and it didn't take long to realise we had something. Graeme is a very positive person, but he also gives it to you straight, so it was good to hear him talking the horse up."
Now retired in Waikanae on the coast north of Wellington, Waddy has made the most of his involvement in Sharp 'N' Smart, who he understandably describes as a horse in a lifetime. That includes being on hand for his two-start campaign in Queensland last winter and again to Sydney, then Melbourne, in the spring.
"He's a bit of a freak I suppose, what he's done, it's almost unbelievable to see him go out and do what he does – winning races like that is an amazing blast!"
A return to Sydney now looms for Sharp 'N' Smart, who gave Graeme Rogerson a first New Zealand Derby to go with his raft of Australasian majors. He heads the market for the A$2 million ATC Derby on April 1 as well as being in the reckoning for the A$5 million Queen Elizabeth Stakes a week later.
As Rogerson might put it, beyond that the world is his oyster with longer-range sights on the Melbourne spring carnival and the International Vase at the Hong Kong Jockey Club's International meeting in December.
Australia is also a major focus for the owners of Legarto, who took her outstanding New Zealand form to Melbourne for an historic New Zealand-trained win in the A$1 million Australian Guineas. Having earned an autumn break, the many options available to her as a four-year-old are now being weighed up by connections.
Six members of that group – trainers Ken and Bev Kelso and fellow co-owners Philip and Catherine Brown and Tony and Mary Enting – have one further chapter yet to play out this season with Legarto's stablemate Levante.
Three years older than Legarto and also a daughter of headline sire Proisir, Levante took her Group One tally to four in last week's El Cheapo Cars WFA Classic at Otaki, and will make her own bid for Australian honours at the Sydney carnival, where Group One targets beginning with the George Ryder Stakes on Saturday week are on her agenda.
The Browns own Ancroft Stud, a boutique operation in Matamata that back in the 1970s housed the leading stallion Battle-Waggon and where Levante was reared and changed hands as a weanling. Levante's journey to becoming one of our best sprinter-milers over the past three years has garnered quite a following, including several who are now owners of Legarto.
The group who joined forces in Legarto's ownership form quite a web. They include Tony and Mary Enting's neighbours Tony and Trish Kirton, Saratoga, New York State couple Mike and Gail Maloy who the Kirtons met while on a Melbourne Cup tour, and Palmerston North couple Bill Foster and Lizzie Verheyen, who the Entings befriended during a Rarotongan holiday.
"From the time Levante began racing a wider group of friends became more interested and came along for the ride, so when we decided to try and find another one like here, they joined in," Philip Brown told RaceForm. "Legarto cost us a fair bit more than Levante, but it's quite incredible to now think where that has taken us.
"We were all there at Flemington on Saturday to be part of what was an incredible experience. When she couldn't get a run up the straight I shut my eyes momentarily and then when I opened them again that fall had taken place down on the inside and I had lost sight of her.
"For a split second I thought she was involved, but then she suddenly appeared between horses further out and came with that amazing finish. It really was unbelievable to see her sprint past them like that.
"I was a proud Kiwi, I felt like I'd pulled on the black jersey for the first time knowing that she had done something that no New Zealand horse ever had before.
"In the couple of days since I've replayed the race probably 15 times, just to make sure I wasn't dreaming. To think we have a horse that has done more than we ever dreamt possible – it makes you very humble and grateful."
Legarto is the first New Zealand-trained to win the Australian Guineas, going one better than the previously unbeaten O'Reilly, who finished second in 1997 to Mouawad, whose sire Zabeel had won the same race seven years earlier.
Saturday's result delivered a long-held ambition for trainers Ken and Bev Kelso to add an Australian Group One win to those they have achieved with their select team over the past 40 years.
Their list of achievements with a stable that has never exceeded much more than 15 horses is impressive, headed by seven individual Group One winners of 13 races at that level. A number of those horses have ventured to Australia, but until Legarto's barn-storming performance last weekend, the Kelsos had had to settle for placings, including seconds in the AJC Oaks by their Kelt Capital Stakes and Avondale Cup winner Love Dance and in the Adelaide Cup with their Wellington Cup winner Envoy.
Last year Levante lined up twice in major sprints down the Flemington straight-six, in the Gr. 1 Newmarket Handicap in March and the Gr. 1 Champions Sprint in November, but she filled near-identical fourth placings in both races behind fellow NZ-bred mare Roch 'N' Horse.
Levante was ridden in both races by expat Mick Dee, and staying loyal he was again on board Legarto to continue a fantastic season that has also included the Caulfield Cup in October and just last week, the Gr. 1 Blue Diamond Stakes.
"That's the win we always wanted – to take a horse like her over to Aussie and bring home a big one," said Ken Kelso, who was joined at Flemington on Saturday by his wife, whose poor health had restricted her travel in recent years. "We've been lucky to have some very good horses over the years and right now we've got two of the very best with this filly and Levante."
Much had been made by the Melbourne media of Kelso's statement that a Group One win in Australia would satisfy their ambitions and allow him and his wife to consider retirement. However, even though now in their mid-70s, it's odds-on that they will be reapplying for their trainers' licences at the end of the season.
"I shouldn't have said that, I've recanted," Kelso said last Sunday before heading out to the Oaklands sales complex and buying a filly by Alabama Express.