Serious challenges not enough to stop Te Rapa Group One pair
By Dennis Ryan
16 Feb 2022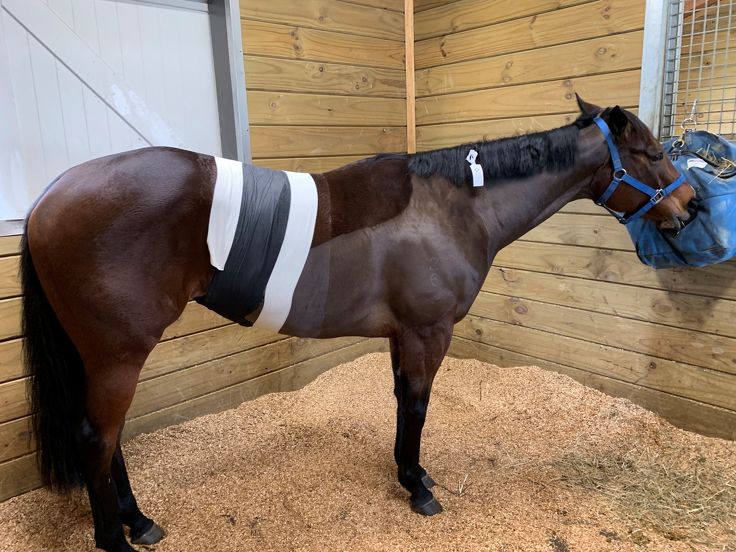 Dual Group One winner Levante in recovery mode following her second colic surgery in mid-2020.
"Training a horse like Coventina Bay has been huge for me."
There's a remarkable back story to last Saturday's pair of Te Rapa Group One-winning mares, Coventina Bay and Levante.
When Coventina Bay broke her Group One duck in the Herbie Dyke Stakes, she took her record to 10 wins and $554,000. Levante, who had made the same breakthrough in the Telegraph at Trentham last month, went back-to-back with a thrilling performance over arch rival Entriviere in the BCD Group Sprint, likewise taking her winning tally into double figures and slightly higher stakes of $560,000.
Both had been knocking on the door of Group One success. Already a winner at Group Two and Three, in her only two previous Group One starts Coventina Bay had finished second in the Thorndon Mile and New Zealand Thoroughbred Breeders' Stakes. Prior to her Telegraph victory, Levante had also won up to Group Two level as well as Group One second and third placings in the Railway, fourth in the Thoroughbred Breeders' Stakes and fifth in last year's BCD Group Sprint.
But even more intriguing when discussing the parallels between these two classy mares are the physical challenges they have had to overcome on the way to elite success. Both required surgery to salvage their careers and, in the case of Levante, avert near-certain death.
Not once but twice, she had to undergo colic surgery, on the first occasion before she had raced, and again when her record stood at four wins and a second from five starts up to the end of her three-year-old season.
Colic could be compared to a thief in the night, an intestinal affliction that no matter how high the level of care a horse might be under, will sneak up unexpectedly. Most times it can be relieved by medication, but in a worst case scenario surgery is the only option.
For Levante to have been subjected to two separate surgeries involving a foot-long incision along her abdomen and recover to become the racehorse she now is could be described as nothing short of remarkable.
Likewise Coventina Bay, who was sidelined with what is referred to as kissing spine disease or by the more technical term over-riding dorsal spinous processes. This condition occurs when the bones that project upwards from a horse's spinal column from the wither to the tail-bone touch or overlap, and can severely impact on performance. It is now recognised as the most common cause of back pain leading to behavioural issues and under-performance.
Coventina Bay underwent surgery to correct the problem at the end of a four-year-old campaign that produced wins in all four starts. After supervised recuperation she returned to competition as a five-year-old, winning her fourth start back, the Gr. 3 J Swap Sprint, at Te Rapa in December 2020.
"She could always gallop and she showed how good she was winning those four starts in her second preparation," recalls Patterson. "But we knew something was bugging her and after the vets had checked her out they told her it was this condition called kissing spine.
"Until then I had never heard of it, but once they explained it, everything made sense. I can think of any number of horses that might have been affected by kissing spine and I'd go so far as saying 10 per cent of all horses have it to some degree."
New Plymouth-based Patterson, the son of a trainer and born and raised in Southland where he rode trackwork for Hall of Fame trainer Rex Cochrane, tasted Group One success in 2006 with New Zealand Oaks winner Legs as the partner of then south Taranaki-based trainer Kevin Gray.
Following Gray's decision soon afterwards to relocate his stable to the Manawatu, Patterson opted for New Plymouth and his team now occupies 40 boxes at the local racecourse.
"I love a bit of a fish and golf in one of the few remaining rugby, racing and beer provinces, so it wasn't hard to become a Naki boy," he says proudly. "Training a horse like Coventina Bay has been huge for me. She is raced by a great bunch of people and she's just a little ripper who gives 110 per cent every time."
While enjoying a more sedate life in Matamata, septuagenarian couple Ken and Bev Kelso share the same admiration for their latest stable star. Levante, the first Group One winner for her sire Proisir, identified her potential from the time she went to the races. When she won her first black-type race, the Counties Bowl, with a jaw-dropping performance in late 2020, her trainers were moved to suggest she might prove to be their best ever.
That's a big call given previous Kelso-trained horses include the Group One winners Love Dance, Envoy, Xanadu, Perfect Fit and Bounding, but well-founded given what Levante has subsequently achieved.
"She's a real darling, so straightforward and easy to train," says Ken Kelso with obvious affection for the unassuming, low-slung bay with such deceptive acceleration.