Proisir's 2023 fee still some way off being announced
By Dennis Ryan
8 Mar 2023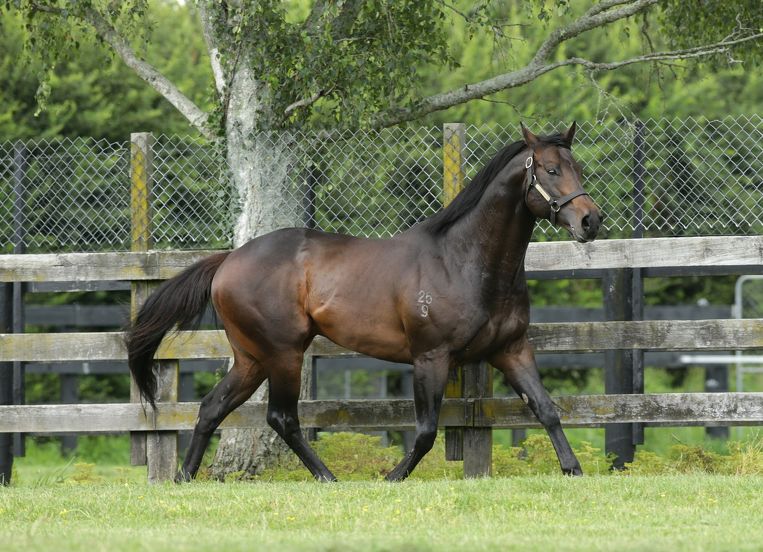 Proisir's sensational season gained a further massive boost with Legarto's Australian Guineas wi
Rich Hill Stud principal John Thompson is in no hurry to show his hand on Proisir's 2023 service fee – and who can blame him with still more to play out in a sensational season for the heir apparent to the New Zealand sires' crown?
Last Saturday Proisir took the quantum leap desired by every New Zealand stallion owner when Legarto credited him with his first Australian Group One win. That jaw-dropping Australian Guineas victory on top of a domestic season of four individual Group One winners set the seal on Proisir's emergence as a serious stallion.
On the home front he is on target to claim his first Grosvenor Award for domestic earnings with a tally of $3,334,600 putting him more than $1.5 million clear of long-time champion Savabeel. Legarto's breakthrough Flemington win also elevated her sire into fourth place behind Savabeel, Per Incanto and Tavistock on the Dewar (Australasian) and Centaine (global) premierships.
Savabeel remains the dominant force on both international tables for New Zealand-based stallions and is likely to remain so through the remaining months of the 2022-23 season, but there's no denying Proisir's rise to prominence.
The son of Choisir, who was secured by Rich Hill as a Group Three winner and twice Group One placed in Sydney, has had to make his mark in what some would describe as the hard way. His 2015 introductory fee of $7,000 increased marginally to $9,000 and off the back of rapidly improving progeny performance he went to $12,500 in 2021 and last year to $17,500.
That 2022 fee could well have been higher as a reflection of Proisir's continuing success, however it resulted in his biggest ever book of 170 mares, with a comparative rise in quality.
"That win by Legarto takes him to another level, the fact she's gone to Aussie and done it puts the icing on the cake, not just for Proisir but for the credibility of New Zealand's feature race form," Thompson said.
"We seem to always be trying to justify our form, so to see the New Zealand 1000 Guineas winner go over and win a race like the Australian Guineas – that's huge for all of us and for someone like me, very satisfying.
"Every studmaster, when you select a new stallion, you're hoping it will be a champion, but the reality is they can't all be and in fact only a very select few make it.
"So for Rich Hill and the syndicate behind Proisir, where he is now is fantastic, especially for a horse that started where he did. Commercially it takes him to another level, both here and in Australia.
"He's always been popular with breeders and buyers, and we saw the demand for his yearlings right across the buying bench at Karaka, but the thing with him is that everything he'd done to date has been off those earlier books.
"His last book wasn't only his biggest but it was also a big step up in quality – I think we counted something like 49 stakes performers among those mares.
"He's had a massive season but the exciting thing it's not over yet and really it's all still in front of him. This weekend he's got Prowess lining up in the Bonecrusher Stakes ahead of a proposed Sydney campaign and Levante is heading over there next week."
Various factors come into deciding a stallion's service fee and Thompson is prepared to wait on autumn racing results as well as gauging the overall market.
"Traditionally New Zealand studs wait to see how new season fees land in Australia and even though there are obvious differences between the two countries, I see no need to change from that pattern.
"One of Proisir's strengths has been the breeders who have supported him, which is clear to see when a small breeder like Warwick Jeffries breeding two Group One winners by him (Legarto and Dark Destroyer) and others like Hallmark Stud with a filly like Prowess.
"We owe it not just to ourselves to do the right thing by the horse, but also to his shareholders, so we've got a fair bit to think about over the next few weeks."
Nor has Thompson lost sight amongst the excitement surrounding Proisir of what Rich Hill's other stallions achieved lately. Shocking continues to make his mark, Vadamos has the likes of La Crique performing well, and Japanese shuttle Satono Aladdin has been making waves with the likes of unbeaten two-year-old Tokyo Tycoon and Melbourne three-year-old Japanese Emperor, who finished third to Legarto in the Australian Guineas.