Noverre adds yet another NZ 2000 Guineas to Te Akau record
By Dennis Ryan
11 Nov 2021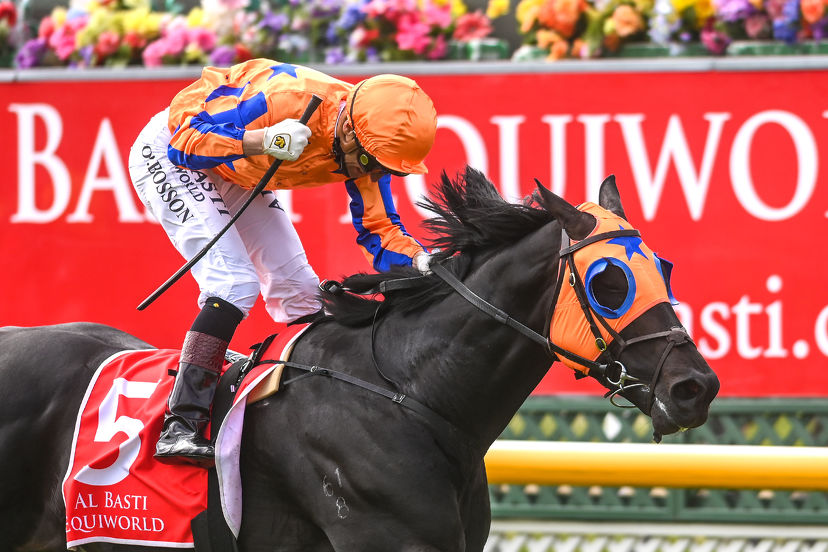 Noverre and Opie Bosson notch another NZ 2000 Guineas in the Te Akau colours
"There were some pretty good judges on him, and I had to pay a lot of money to secure him."
He's been in the middle of it multiple times over the best part of 20 years, but David Ellis never tires of winning the first classic of the New Zealand season.
Last Saturday at Riccarton Park, Savabeel colt Noverre claimed the seventh New Zealand 2000 Guineas for the Te Akau behemoth. The first of those was with King's Chapel in 2003 followed by Darci Brahma in 2005, Tell A Tale (2008), Rock 'N' Pop (2011), Xtravagant (2015), Embellish (2017) and now Noverre.
"We take a lot of pride in developing lovely horses that can win a race like the 2000 Guineas," Ellis told RaceForm. "Sourcing them from the Karaka sale-ring is a big part of it and this colt is the perfect example.
"There were some pretty good judges on him, and I had to pay a lot of money ($800,000) to secure him. Even though that's no guarantee that a horse will become a Group One winner, it's certainly an indication of the quality of the horse."
All of the above apart from the Fortuna Syndications-raced Tell A Tale have been colts and the latest blue riband winner will in time follow the other five to stud. The standout amongst them on that score is Danehill's son Darci Brahma, whose Group One progeny tally stands at 12, while younger pretenders Xtravagant and Embellish each have solid platforms for future success.
"Xtravagant has got off to a great start at Newhaven Park," continued Ellis. "He's already had a stakes winner from his first crop of three-year-olds and nine winners last month alone.
"Embellish is set to cover something like 150 mares this season at Cambridge, which is quite extraordinary for a stallion in his third year. That's because he's such a quality individual standing at a very reasonable fee, and the other thing is he's passing that on to his foals."
An important part of the Ellis syndication model is investment in colts, which apart from those that have excelled in the 2000 Guineas also includes the likes of Group One-winning two-year-olds Heroic Valour and Cool Aza Beel.
"Heroic Valour was the unbeaten champion at two and stands at Raheen Stud in Queensland, where he's already had three two-year-old winners. Cool Aza Beel is standing his first season alongside Xtravagant at Newhaven Park and has a book of 145 mares."
Noverre's breeder Garry Chittick admits to being a reluctant seller when the handsome dark brown was put forward in Waikato Stud's 2020 National Sale draft. Out of the Group-winning Rip Van Winkle mare Magic Dancer, he became Savabeel's 25th Group One winner last weekend and the fifth Waikato Stud-bred winner of the 2000 Guineas in the past decade.
Chittick takes a typically pragmatic attitude that money talked when it came to the crunch at Karaka, but at the same time is happy that he managed to retain a 22.5 per cent share-holding.
"I wanted to keep more but that's all DC would let me have," he said. "But good luck to them, I take my hat off to David. He's a beautiful colt and it's great to see it all come to fruition.
"One day should he return to stand at Waikato Stud, at least he's not out of an O'Reilly mare and he'll be a better fit for a lot more of our mares. We did look at Mo'unga as a decent son of Savabeel, but since his dam was by O'Reilly, there were only about 40 mares here that could go to him."
Any stud decisions around Noverre are for the future, with time in the paddock for now and likely goals in the second half of the season beginning with the Karaka Million in January, hopefully followed by Australian targets.
Ellis took additional pride out of Saturday's result through the roles played by trainer Jamie Richards and jockey Opie Bosson.
"That puts Jamie within one of a half-century of Group One wins, which is just incredible for such a young guy," he said. "And I was thrilled for Opie after everything he's been through with the lockdown restrictions.
"When we managed to get a clearance for him to come to the farm and work towards getting him back to race fitness, he really had to put in the hard yards. It was a hell of an effort to lose 15 or 20 per cent of his bodyweight, so he deserves everything that comes his way.
"To think that he rode King's Chapel for us when he won our first 2000 Guineas, and here we are all those years later and he's back riding as well as ever!"
For the record, Noverre's win in the Al Basti Equiworld NZ 2000 Guineas was Bosson's eighth in the colts and gelding's classic and took his tally of Group One wins, dating from the first on Jezabeel in the 1998 Auckland Cup, to 84.