Minimalist Murray retires on his modest terms
By Dennis Ryan
9 Feb 2022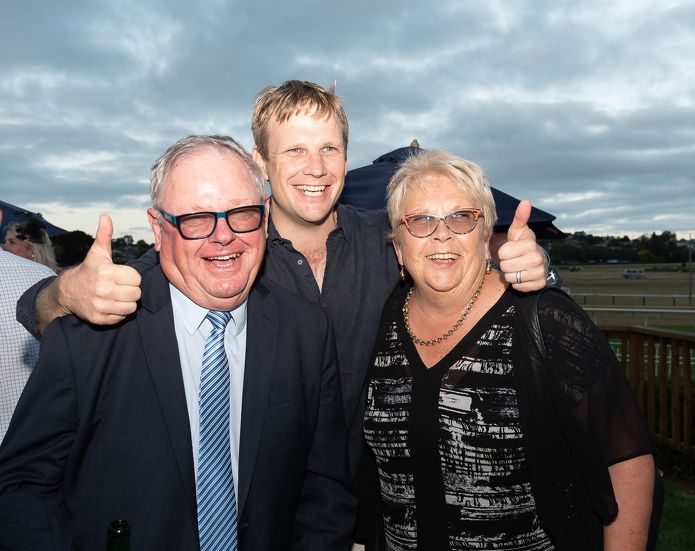 Hall of Fame trainer Murray Baker in celebration mode with his wife Maryanne and son Bjorn
"He establishes routines with every horse in the stable, he treats them all the same, but once he has assessed a horse's potential he's not afraid to have a go."
A brief letter emailed to stable clients last Thursday advising the retirement of one of New Zealand's most successful trainers was typically Murray Baker.
The minimalist 130-odd words said so much about the signatory, a man whose achievements include more than 1,800 domestic wins, 56 Group Ones including a record 22 in Australia and induction to the New Zealand Racing Hall of Fame. The 75-year-old's celebrated career was restricted to simple terms in the clients' advisory with "I have been fortunate to have had some very good horses, met a lot of marvellous people and had a lot of fun times".
This writer's years in racing had already brought realisation that Baker delivered with actions rather than words, that when he chose he played his cards close, and that a conversation with him centred more on racing's broader issues than any affecting him specifically.
However something he does enjoy is reminiscing. Multiple times over the past week he has cast his mind back to his boyhood growing up in Hawke's Bay and as a 12-year-old in the late 1950s riding trackwork for Greenmeadows trainer Harry Greene, to master mentors Eric Ropiha and Noel Eales from his early training days in Woodville, and most of all the many class gallopers that have passed through his hands.
Racing was not always front and centre of the Baker mindset. A natural athlete with a particular focus on cricket, at age 20 his spin-bowling skills combined with a handy middle-order bat got him into the Central Districts team and successive Plunket Shield trophies in the mid-1960s. That led to a professional career in the United Kingdom, where from a Yorkshire base he played in the Huddersfield League, interspersed with off-season labouring stints in Europe.
But he never shook off that racing bug and when his cricketing career ended and he returned to New Zealand, Baker worked for astute Te Rapa trainer Ray Cotter before deciding to take out his own licence in the 1978-79 season. After a brief stint at Awapuni, he settled on the other side of the Manawatu Gorge in Woodville, which during the 1970s and '80s was a major thoroughbred hub.
From there he prepared his first Group One winner, Sir Vigilant, in the 1985 New Zealand St Leger, followed by his first Australian winner, Our Palliser, in the 1987 Gr. 2 Tulloch Stakes at Rosehill. The first of Baker's Group One wins on the other side of the Tasman was the 1990 Underwood Stakes at Caulfield with The Phantom, setting a pattern for regular plundering of lucrative Australian stakes.
He takes special pride from his five Australian Derby wins with Nom Du Jeu (2008), Dundeel (2013), Mongolian Khan (2015), Jon Snow (2017) and Quick Thinker (2020), and five Oaks across New Zealand and Australia with Bonneval in the 2014 NZ and ATC Oaks, Let's Sgor and Staring in the 1991 and 1992 NZ Oaks and Dowry in the 2002 SAJC Oaks.
Dundeel, who delivered an unprecedented clean sweep of Sydney's three-year-old majors the Spring Champion Stakes, Randwick Guineas, Rosehill Guineas and ATC Derby amongst six Group Ones, is singled out as the best horse he trained, while Bonneval is the pick of Baker's fillies and mares.
The Melbourne Cup, one of the few marquee races he was unable to win, features at the top of his list of disappointments, first with The Phantom, desperately unlucky when fourth in 1989 and a year later beating all but Kington Rule in a time that still stands as a race and track record. Fifteen years later after winning the Caulfield Cup, Baker's dual Derby winner Mongolian Khan was being spoken of as having the Melbourne Cup at his mercy, only to be struck down by colitis days out from the big one.
An ideal trainer's temperament in not only accepting and moving on from that inevitable side of the game, but also in soaking up big-race pressure, has stood to Baker throughout his career. No better example of the latter was Dundeel's build-up to the 2014 Gr. 1 Queen Elizabeth Stakes. After placings in the Chipping Norton, Ranvet and BMW Stakes, the 2000m weight-for-age race was a "must-win", the perfect way to bring down the curtain on the little champ's track career ahead of retirement to Arrowfield Stud.
From his base at son Bjorn's Warwick Farm stables, Baker settled on a single piece of sharp work as Dundeel's only gallop in the week leading to the grand final. Catching up with him at Randwick hours out from the Queen Elizabeth, I can still remember the look of quiet satisfaction on Baker's face as he recounted that Thursday gallop.
"All season as a four-year-old we had been battling a debilitating foot issue with him," he reflected earlier this week. "I knew we had him right – all we had to do was get him to the race – and thankfully we were able to do that with a minimum of fast work.
"That's the difference with those top horses – you can do things with them that you couldn't with others," he says with stock self-effacement.
Horses apart, Baker also says he's been lucky to have had the services of some of Australasia's best jockeys over the years, naming Noel Harris, Opie Bosson, James McDonald and Australian Hugh Bowman as the pick of them, but when it comes to his rivals in the training ranks, he resorts to a straight bat.
"They're all tough when they get out there with the right horse," he says.
That comment might be challenged by Baker's legion of owners who have benefited from his training skills, among them Wellingtonian John Rattray, a client for more than 30 years. His and racing partners' green jacket, blue sleeves and red cap have been carried by the winners of more 70 races, including six Group Ones headed by dual New Zealand Horse of the Year Bonneval.
"Over the years Murray and I would have had hundreds, if not thousands, of conversations," says Rattray. "He always has something interesting to say about your horse, he's such an original thinker.
"He establishes routines with every horse in the stable, he treats them all the same, but once he has assessed a horse's potential he's not afraid to have a go.
"He has often said to me when you're going for the big races that you can't hide, you have to be fit and you have to be up for it."
As an example Rattray refers to a summer/autumn three-year-old campaign when Bonneval finished third in the Desert Gold Stakes ahead of a hat-trick in the Sir Tristram Fillies' Classic, Lowland Stakes and New Zealand Oaks.
"She kept improving as she stepped up in distance, but the Oaks was a hard run, she covered ground and had to dig deep to win by half a length. There we were thinking that would be it for the season after a pretty tough campaign, and Murray rings up and says she's off to Sydney.
"Wouldn't you know it, three weeks later she lines up at Randwick and comes up with the best run of her campaign to win the Australian Oaks by four lengths on her ear! If I needed any convincing Murray was a genius, that was it."
Come May 1, Murray Baker will have officially handed over the keys to his Cambridge stable to understudy Andrew Forsman, with whom he has shared four trainers' premierships and 24 Group One wins.
His scheduled retirement date will allow one last Sydney autumn carnival raid, where The Chosen One, who gave Baker his 56th Group One win in last month's Thorndon Mile, will hopefully head a familiar party that may also include Rattray's last-start Manawatu Cup winner Marroni. Then he and his Swedish-born wife Maryanne intend enjoying the other side of life, in particular travelling and catching up on wide-spread family that will hopefully be allowed as border restrictions ease.
"We'll miss him doing what he has done so well and for so long, but you have to accept he's earned it," says Rattray, echoing the thoughts of many.