McNeill rises to the occasion for Ellerslie double
By Dennis Ryan
10 Jun 2021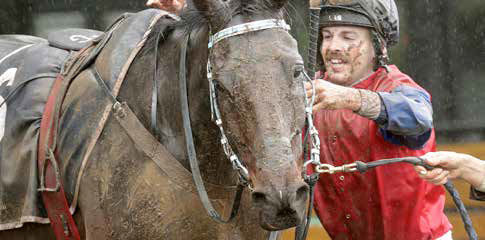 There's nothing to compare with the resilience of a jumps jockey and no better current example than 25-year-old Scotsman Hamish McNeill.
At Ellerslie on Monday, McNeill made the most of his opportunities in landing his first Prestige Jumps Race double on Arite Guru and Eion in the K S Browne Hurdle and McGregor Grant Steeplechase. For good measure he finished second and third on his maiden hurdle and steeple mounts.
Such a rewarding and trouble-free day's riding is a far cry from what McNeill encountered after arriving in New Zealand in 2014. A broken collarbone delayed his jumps riding ambitions and when he did get the chance he had to endure more than 40 nonwinners before the floodgates opened up.
In a breakout 2016-17 season McNeill won eight races, headed by the Manawatu Steeplechase on The Oysterman for Manawatu trainer Stephen Nickalls. In the opening week of the new season he added the Grand National Hurdles on Ready Eddie, trained by Nickalls' partner Laura Knight, and another six wins followed in 2017-18, but only one more in each of the next two injuryplagued seasons.
"My career has had its ups and downs, more low periods than good times," McNeill conceded on what much of the past seven years has served up. "I was cursed with injuries, one after the other and just about all of them at the wrong time.
"Come June or July, just as I thought I'd be all set with some nice rides coming up, I'd go and get hurt again. Right now though, I'm feeling good, so hopefully it's onwards and upwards."
Early in his New Zealand endeavours McNeill worked for Byerley Park trainers Shaun and Emma Clotworthy, thanks to whom he gained the ride on Monday's K S Browne Hurdle winner Arite Guru.
"Shaun and Emma did their best to get me started, but then I went a bit silly," he admits. "I'm happy to be back with them now though, they're great to work for and more like family than my bosses."
That connection includes Arite Guru's coowner/ breeder John Williams, who handed over the training of the Gallant Guru gelding to the Clotworthys but remains involved on a daily basis.
"Johnny's here every day and we have a lot of fun," added McNeill. "I love stirring the pot with him and he always bites, but he lives for that horse and it was great to get the win for him."
By contrast McNeill hadn't been on Eion's back until he was legged up by trainer Ken Duncan for Monday's McGregor Grant Steeplechase. But there was no sign of any lack in familiarity as he gave the lightly raced seven-year-old a dream run tracking Zartan and It's A Wonder before hitting the lead once over the Ken Browne brush at the bottom of the hill and racing to an easy win.
"I put it all down to Kenny Duncan," McNeill summed up modestly. "That was an amazing training feat to have him ready for such a testing race with just one flat run under his belt."
Eion began his career with master horseman Kevin Myers, but recurring soundness issues led to Duncan taking him over for a partnership that besides himself and wife Jacques comprises his mother Jean, family friend Margaret Linklater and Canterbury Jockey Club CEO Tim Mills.
Their patience was tested when Eion suffered a tendon injury two starts after winning a maiden steeplechase on 2019 Great Northern Steeplechase Day and he didn't race again until last week, finishing on late over 2100m at Awapuni just four days before lining up in the McGregor Grant.
"Lots of patience, lots of slow work at home and the rest is up to the horse," says Hunterville-based Duncan, whose previous credits include the Grand National Steeplechase winner Shamal and Great Northern and two-time Wellington Hurdle winner Wee Biskit.