Laking realises career ambition with Kumara Nuggets victory
By Dennis Ryan
13 Jan 2022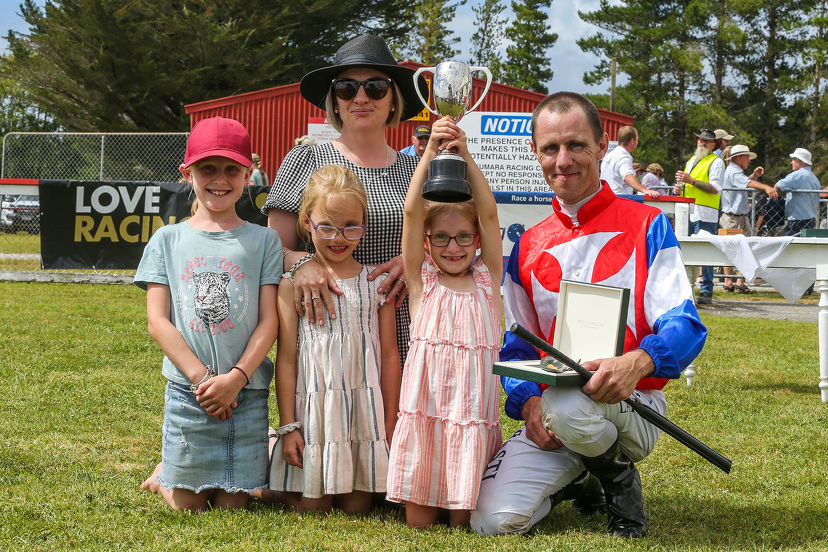 Kumara Gold Nuggets-winning jockey Jason Laking shows off the spoils of victory with his partner Lou
"You wouldn't believe it, but that was the first time the girls have been on-course to see me ride a winner."
Canterbury jockey Jason Laking realised a long-held ambition when riding the enigmatic Camino Rocoso to victory in the Vernon & Vazey Kumara Gold Nuggets.
It was by no means the 39-year-old's biggest success in a career spanning more than 20 years and close to 400 wins, but as far as he's concerned, it was special.
"Ever since I first rode on the West Coast circuit, the Kumara Nuggets has been the race I've wanted to win," Ashburton-based Laking told RaceForm earlier this week. "They talk about the big carnivals and major races around the country, but in my mind by far the best day to ride is Nuggets day, you just can't beat the atmosphere.
"Any win there is great but the ultimate is the Nuggets, that's always been my target. With my weight I've hardly ever managed to get a ride in the race but I got lucky this year and ended up on Camino Rocoso, so it's fantastic to finally crack it."
The bonus for Laking last Saturday, as displayed by his fist-pump across the line, was that his partner Louise O'Reilly along with the couple's daughters Maddie (8) and twin sisters Hazel and Georgia (6) were there to share the occasion.
"You wouldn't believe it, but that was the first time the girls have been on-course to see me ride a winner. They've been to the races before but it was getting to the stage where I was starting to think they were some sort of hoodoo.
"Lou and I decided this year to make a bit of a family holiday of it, so we all went over to the Coast and I managed to crack it. My uncle and aunty, who live in Greymouth, and my sister and brother-in-law up from Invercargill were there as well, so it really was a day to remember."
On the opening day of the circuit Laking combined for the first time with the John and Karen Parsons-trained Camino Rocoso to finish second in the Greymouth Cup, beaten a half-head by the Kevin Myers runner Bully Boy.
Five days later the tables were turned when Camino Rocoso burst to the lead as the field swung in for the short run to the finish and sprinted away to score by more than four lengths over Bully Boy.
"I knew he had a reputation for pulling and racing away to big leads, but he was pretty good both times I rode him," said Laking. "Even though he was a bit keen at times he travelled up really well and after his run at Greymouth I knew that if he got the right trip he would be hard to beat.
"I don't ride a lot for the Parsons but whenever I do I know it will be worth my while."
An impost of 60.5kg was formidable for Camino Rocoso on Saturday but essential for Laking, whose lanky frame is anything but conducive to flat riding weights and in fact meant he had to forfeit three other Kumara mounts.
Weight wasn't an issue during the initial years of his apprenticeship with Wingatui trainer Hec Anderton, but into his late teens that all changed to the point that his career since has been something of a balancing act.
"Halfway through my apprenticeship I started shooting up and it got to the stage into my 20s that I gave up – it was just too tough – and I had a job in Ashburton with a tyre company for six years. But in the end I got sick of changing tyres and the horses drew me back."
The best that Laking has been associated with was the Anderton-trained, Dennis Brothers-bred and owned The Jewel, who he partnered in eight of her 11 wins, the best of those the Gr. 1 New Zealand 1000 Guineas in 2002.
"That was towards the end of my apprenticeship and it was a privilege to ride such a good filly, especially with her being trained by Hecky. He was just the best boss you could wish for," Laking says.
Since recommitting to his original career in 2017, Laking has added another 57 wins to a tally that now stands at 397. He supplements raceday riding and trackwork duties at Ashburton and Riccarton with a day job for major seed merchant Chris Green, the husband of Barneswood Farm principal Sarah Green.
"I work for Chris pressing oil from hemp and flaxseed," he says. "Having a family means you have to be committed, and again I'm lucky that Chris is someone who's great to work for."
Earlier this week Laking was weighing up his options between following Camino Rocoso to the first day of the Wellington Cup carnival or taking a handful of "nice" rides at Wingatui.
As much as he would have liked to continue his association with Camino Rocoso, who would be chasing his 14th win in search of a repeat of his 2020 Trentham Stakes success, the weight of numbers meant staying in the south and riding on Waikouaiti Cup day.