Karaka Million marks a grand unveiling and a fond farewell
By Richard Edmunds
26 Jan 2022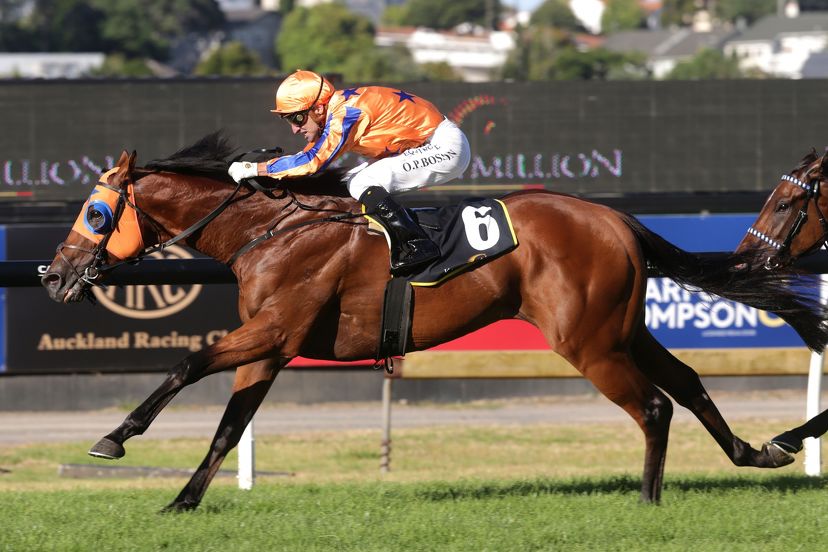 Almanzor colt Dynastic lands a huge result in the Karaka Million 2YO.
"Dynastic's dominance of the Karaka Million was a dream result for a first-crop stallion."
The million-dollar centrepieces of Saturday's twilight extravaganza at Ellerslie shone the spotlight on two sires at opposite ends of the spectrum.
The DoubleTree By Hilton Karaka Million 2YO turned into a tour de force by Dynastic, the first southern hemisphere winner and first stakes winner anywhere in the world for Cambridge Stud's rising star shuttle stallion Almanzor. Just over an hour later, the Karaka Million 3YO Classic produced an upset victory by Pin Me Up, a filly from the 18th and final crop of Waikato Stud's outstanding performer Pins.
Saturday's six-race spectacular could hardly have gone better for Cambridge Stud's Brendan and Jo Lindsay. Not only did the scintillating second-starter Dynastic get Almanzor off the mark in dream style, joining Any Suggestion (Ockham's Razor) and Showcasing (Hardline) as only the third first-season stallion to sire a Karaka Million 2YO winner. As well the Lindsays' Group One-winning Snitzel colt Sword Of State made a triumphant return to peak form in the race they sponsored, the Gr. 3 Cambridge Stud Almanzor Trophy.
"With what Dynastic did for Almanzor, and with Sword Of State winning Cambridge Stud's sponsored race in Brendan and Jo's colours, it ended up being one of those truly spectacular days that you always hope for on the morning of a major raceday," Cambridge Stud CEO Henry Plumptre told RaceForm.
"Dynastic's dominance of the Karaka Million was a dream result for a first-crop stallion, and it's a tribute to those people who got involved with Almanzor in that first year.
"He was a magnificent type with an outstanding race record, being weight-for-age champion in Europe as a three-year-old, which is very hard to do. But his pedigree, particularly as a son of Wootton Bassett, meant that he wasn't an easy sell.
"The fact that we had the backing of shareholders in year one, two and three, that's what's given this stallion such a wonderful start. He served some high-quality mares.
"Having such lovely mares in his first book, second book and third book has given Almanzor such a strong foundation, and that's something we're very grateful for."
That first book featured the winning Volksraad mare Meir, whose half-sister Lady Le Fay won the Listed Anzac Handicap at Awapuni before crossing the Tasman to place in the Gr. 3 Angst Stakes and finish fourth in the Gr. 1 Queen Of The Turf Stakes. Another sibling, The Tidy Express, was a three-time placegetter at Group Three level.
Meir is a granddaughter of the Irish mare Guinevere, who was bought by Windsor Park Stud's Rodney Schick from a Tattersalls Sale in England in the 1990s. Schick has bred from the family in partnership with long-time clients John and Margaret Thompson ever since, including the Almanzor-Meir colt who would become Dynastic.
Offered by Windsor Park at Karaka's Book 1 sale last January, the colt caught the eye of Te Akau Racing's David Ellis and changed hands for $360,000. Plumptre admits to being astonished that the colt has become a Karaka Million winner 12 months later.
"The funny thing about horses is that they have a bit of a habit of making a fool of you," he said. "We all loved Dynastic leading into the sale last year – he was a lovely colt. But I never would have seen him as a two-year-old type. If you'd said to me then that he'd even be running in the Karaka Million a year later, I would have laughed.
"But sometimes these unexpected things can happen, particularly if you combine the physical presence of this colt with the training talents of Jamie Richards.
"Dynastic is part of one of Te Akau's stallion syndicates, and we've got a 15% share of the ownership. We had been so disappointed just a day or so earlier, when a setback forced the scratching of Grace 'N' Grey, who we bred and sold to Te Akau. Unlike Dynastic, she really did look like a nailed-on Karaka Million type – not very big, but so well-developed. It's funny how things turn out in racing sometimes.
"Waikato and Windsor Park Studs have shares as well, so there could be some interesting conversations about Dynastic's stud future if he continues to develop the way we all hope he will. But the first thought will be to try to get him to Australia and be competitive at black-type level over there."
Meanwhile, the Karaka Million 3YO Classic triumph of Dynastic's stablemate Pin Me Up made her the 86th individual stakes winner for Pins, whose long career featured two Centaine Awards for champion New Zealand sire by total worldwide progeny earnings.
Pins stood at Waikato Stud from 2000 up to his death in April of 2018. Arion Pedigrees statistics credit him with 830 winners from 1,201 runners, headed by the Group One winners Aerovelocity, Katie Lee, Madison County, El Segundo, Ambitious Dragon, Legs, Porotene Gem, Econsul and A Touch of Ruby.
Pin Me Up is out of the O'Reilly mare Brampton Loco, a half-sister to Gr. 2 Travis Stakes winner Pimms Time. Bred by Waikato Stud and offered in their Book 1 draft at Karaka 2020, she was bought for $270,000 by Andrew Williams Bloodstock on behalf of Sydney accountant Peter Collier's Konj Pty Ltd.