Karaka 2023 overcomes challenges for a memorable Book 1
By Richard Edmunds
1 Feb 2023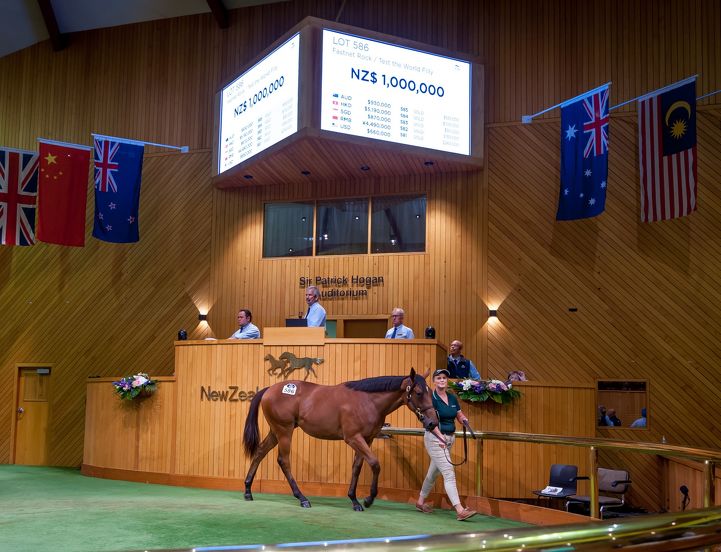 The top-priced – and only seven figure lot at Karaka 2023 – Curraghmore's Fastnet Rock-Test th
Despite an uncertain global economic outlook, and despite a week of wild weather that made headlines for all the wrong reasons, New Zealand Bloodstock delivered a super-competitive Book 1 of Karaka 2023 that surpassed all expectations.
Overseas buyers were able to attend in person for the first time at a New Zealand yearling sale since January 2020. Avoiding the unprecedented closures of the flooded international terminal at Auckland Airport, the visitors were out in force among the buying bench at the Karaka auditorium, which was named in honour of the late Sir Patrick Hogan in a ceremony just before Sunday's first lot.
But the New Zealanders rose to meet the international challenge and more than held their own, leading to a strong set of Book 1 statistics.
The final aggregate of $70,063,000 and average of $151,980 were the highest since 2018, and the strength of the middle part of the market is reflected with a healthy median of $130,000 – comfortably eclipsing any Karaka sale in the last five years, including the benchmark sale of 2018, which had a median of $110,000.
"Naming the sale auditorium after Sir Patrick Hogan was a great start to the week, which set the scene for a strong three days," New Zealand Bloodstock's managing director Andrew Seabrook said. "All the big guns were here. It was fantastic to see the Australian spend up by $11.5 million and tremendous to have them back."
Te Akau Racing's David Ellis repelled that Australian challenge and extended his reign as king of the buying bench into another year, claiming his 18th consecutive title of leading purchaser by aggregate. He bought 27 yearlings for a total of $6,115,000 and an average of $226,481.
Ellis saved his best for last, securing the sale-topper with his final purchase in Book 1. He paid $1 million for Lot 586, Curraghmore's Fastnet Rock filly out of the stakes-placed Testa Rossa mare Test The World. She became the first filly to crack the million-dollar mark at Karaka since 2005.
"This complex was opened in 1988, and I have never seen a better filly here," said Ellis, whose previous purchases from this sale ring include multiple Group One-winning mares Melody Belle, Avantage and Probabeel. "She was just perfect. She has a beautiful pedigree, and the mare had a lot of speed."
Waikato Stud was leading vendor for the eighth time in the last nine years, selling 52 yearlings in Book 1 for an aggregate of $7,742,500.
While champion sire Savabeel has so often underpinned Waikato's dominance of the Karaka sale ring, he was ably supported this year by the rest of the stallion roster – most notably the Caulfield Guineas-winning freshman sire Super Seth (43 yearlings sold for a total of $5,305,000, an average of $160,758 and with a top price of $625,000).
Tivaci averaged a healthy $117,934 from 23 yearlings sold, while up-and-comer Ardrossan caught the eye with an average of $116,428 from seven Book 1 yearlings.
"The highlight of the sale for us was how Super Seth's progeny sold," Mark Chittick said. "Obviously you take on a big risk when you bring these colts to the farm. There is no doubt about it, he was a phenomenal racehorse with a massive price tag.
"These stallions are key to our business and the breeding industry. It's a big hill to climb, but I'm glad they were accepted by the buying bench.
"I think all of the vendors left no stone unturned. There was a great vibe leading into the sale, when the sun was out. I think we can all be very proud of what we achieved."
Another notable result among sires as Rich Hill Stud's high-flying Proisir, who has sired four Group One winners in New Zealand this season (Dark Destroyer, Pier, Legarto and Levante) and holds a significant lead on the domestic stallion premiership.
Those feats did not go unnoticed as his biggest-ever Book 1 offering of 19 yearlings went through the ring over the three days. All of those 19 yearlings were sold, netting a total of $3,590,000 and an average of $188,947. These yearlings were bred when his service fee was only $9,000.