James takes measured approach to comparing past and present stars
By Dennis Ryan
29 Mar 2023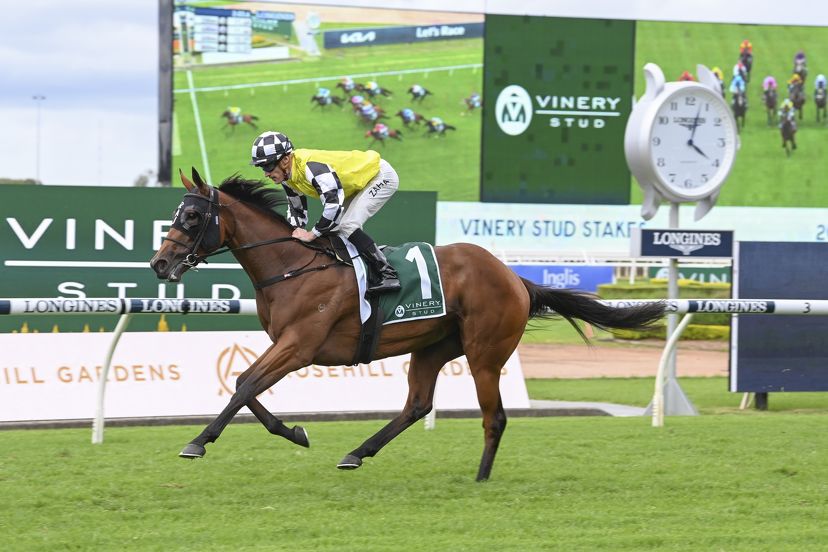 Prowess (Mark Zahra) coasts to victory in the Vinery Stud Stakes.
Roger James has always measured his words in assessing the relative merits of the long list of major winners integral to his 40-year training career.
It's therefore noteworthy that he has a likely new benchmark. Prowess pushed her case at Rosehill on Saturday when she added the Gr. 1 Vinery Stud Stakes to a near-perfect New Zealand record capped by her Gr. 1 Bonecrusher NZ Stakes win.
But there's still a proviso to the rating that would elevate her above the horse that James has always rated his best of the best, 1997 New Zealand Derby winner Zonda.
"I've thought for a while that she might be my best ever," James said earlier this week. "She's pretty special and everything she's done to date suggests she could be, but she's still got to do a little bit yet."
Zonda, an athletic son of Zabeel, won six of only 16 starts across a career that was undermined by unsoundness. At three he won the Gr. 2 Avondale Guineas and Gr. 1 New Zealand Derby, which back then were contested in December.
Six weeks later he added the Gr. 2 Alister Clark stakes over 1600m at Moonee Valley before finishing second in the Gr. 1 Australian Guineas during the brief period it was contested at 2000m, followed by a fifth placing in the Gr. 1 Rosehill Guineas.
Soundness issues then intervened and he wasn't seen out again until he was six years old. A first-up third was followed by victory in the Gr. 3 King's Plate at Ellerslie on the third anniversary of his Derby win, and six days later he added the Gr. 1 The Oaks Stud (Zabeel) Classic. Zonda was to have only three further starts before his enforced retirement.
"He was plagued with injury from the end of his three-year-old career," James recalls. "We never saw the best of him and I have no doubt that had he been injury-free he could have won anything."
That explains why James is hesitant to put Prowess ahead of Zonda, and that won't be happening any time soon with an autumn let-up now the priority for the Proisir filly. However if all goes to plan there's every chance it will happen.
James admitted when RaceForm spoke to him in Sydney that others were attempting to second-guess his decision even before Prowess had delivered a sound beating to her Vinery Stakes rivals. He had declared that as her final start for the season and remained steadfast despite being told that if she was to proceed to the ATC Oaks she would line up as the hot favourite.
"There were a lot of people over here raising their eyebrows, but I'm certain it's the right decision," he said. "She's yet to fully develop and on Saturday she presented as ready as she had looked all season, so I was happy to send her home."
Four days out from the New Zealand Derby, James and training partner Robert Wellwood caught pundits by surprise when they withdrew Prowess from the classic in the belief that she should remain at 2000m rather than step up to 2400.
That call was vindicated when she stepped out a week after the Derby to beat her older rivals in the Bonecrusher Stakes, and nothing that's happened in the meantime has changed her trainers' thinking.
"I very much doubt that she'll ever race over anything further (than 2000m)," James said, at the same time conceding that the additional 40 metres of the Cox Plate still fitted within her range.
"That's just one race of many we could consider, but for now with her home in the paddock we've got plenty of time to make plans. Dean (Skipper, principal owner) turned down an amazing offer for her in the spring – I mean a life-changing amount – but everything she'd done since says that was the right call."
Now in his mid-60s, James is at a stage where he feels reinvigorated, not only by horses of the quality of Prowess but also by what Wellwood has brought to Kingsclere Stable dynamics since graduating from foreman to training partner in 2018.
"Robert is enthusiastic with younger, modern ideas and skills which have added to our whole ability to service our clients, way more than was accepted practice 10, 20 and more years ago.
"He is now a partner in the business, he's been gradually buying into it. I have no plans to end my involvement, but it's great to see him taking more and more of a share in a structured way."
Wellwood will get his turn in the Sydney autumn carnival action when James hands him the baton this week to saddle up Mark Twain for Saturday's A$2 million Australian Derby.
In just his fifth start, the Shocking gelding hit the line from well back in the New Zealand Derby to finish fourth behind Sharp 'N' Smart, Andalus and Full of Sincerity, who he will meet again in the Randwick classic.