Horace left his mark across racing's full spectrum
By Dennis Ryan
24 Aug 2022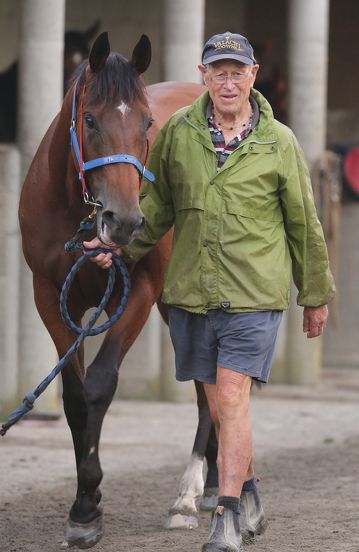 Denny "Horace" Moroney in a familiar role – incredibly just weeks before his 89th birthday –
The footprint left by someone in their life can't always be measured by anything as simple as a list of achievements and statistics.
Denny Moroney was one such person. His name doesn't appear on an honour roll or premiership plaque, but an influence that spanned more than nine decades made him one of the most recognisable and popular members of the racing fraternity.
When he died at age 93 last Saturday, he left a legacy that includes his sons Mike, a leading trainer, and Paul, a highly respected bloodstock agent. His reach was far greater, however, to include hundreds of people across the full spectrum of the racing industry.
Given the nickname Horace by his children during his dairy farming days, that became a famous moniker by which he was known, not only to stablehands employed at Ballymore Stables but to so many others who likewise knew him by no other title.
This writer remembers the bemused delight he took from one of his many visits to Australia on that greatest of all racing occasions, the first Tuesday in November at Flemington.
"About halfway through the day I was walking across from the mounting yard to the saddling stalls and the place was packed with people everywhere," he recalled to me a decade or so ago. "I was on the fenced off walkway, and I suppose people could see me, when someone way up in the grandstand yelled out 'Hey Horace!'
"There was no way among all those faces that I could tell who it was, so I just waved out towards the direction of where I thought it had come from. Next thing they're all yelling out 'Hey Horace'. I just shook my head and smiled; it was quite amusing."
By that time Mike Moroney was well established as a Flemington-based trainer, having won the 1997 VRC Derby with Second Coming, who in that most memorable of all occasions three years later finished third to his stablemate Brew in the Melbourne Cup.
Forty years earlier the Centennial Melbourne Cup had been won by the New Zealand-owned and trained outsider Hi Jinx, who was bred by Denny Moroney's parents-in-law Charlie and Ellie Casey. Their eldest daughter Mary was by then married to Moroney, adding significant impetus to his passion for racing that had already included riding work for his owner-trainer father.
To supplement providing for a family of five children on a dairy farm of less than 100 acres, Moroney worked part-time at nearby Evergreen Lodge, operated by Frank Wilson, a friend from his Auckland boarding school days at Sacred Heart College. Another friend was next-door neighbour Ian Signal, who ran a combined dairy farming and thoroughbred breeding operation based around the former smart weight-for-age performer Lord Sasanof.
Signal also trained a handful of home-bred horses, the best of which was the good stayer Johnny Cash, named like so many of the Signal horses after a country and western singer. Where ever Signal and Johnny Cash went, so did Moroney, including a one-off trip to Auckland when the American the horse was named after was on a concert tour.
"It's incredible to think they took the horse to the Hotel Intercontinental and put him in the service lift up three floors to meet his namesake," Paul Moroney recalled earlier this week. "It was broadcast live on the nightly TV show Town And Around and us kids waited up until Dad got home to hear all about it.
"I can still remember how bemused he was that Johnny Cash, who always dressed as a cowboy, was scared of horses!"
Mike and Paul Moroney were to share their father's passion for racing, which led to the elder leaving high school to work for Dave O'Sullivan at Wexford Stables. He rose rapidly to foreman and then into a three-way partnership with the legendary trainer and his son Paul.
In 1982 Mike made the decision to go it alone to establish Ballymore Stables, and it didn't take long for his father to gravitate in the same direction.
"During his final years on the farm Dad suffered a lot of back trouble, I guess from all those years of bending down in the old walk-through cowshed," Mike recalls. "That's why he sold the dairy herd and farmed drystock, then he and Mum decided to sell up and move to town.
"Next thing he's turning up at the stables every morning and to start he was my unpaid stable employee. It was great to have him working alongside me, travelling to the races and also a very capable handyman around the place.
"When I first moved to Adelaide he came across for a few weeks and then when I made the shift to Melbourne he and Mum had lots of trips over. He also went as a strapper to Hong Kong with Lord Tridan and Mahoenui Lass."
The Moroney brothers not only attribute their father's influence as key to their own pathway in the racing industry but also his overarching place in the lives of so many others.
"He nurtured our passion – that's where it all started for us – but as well as that, especially when he got involved in Ballymore, he looked out for so many other young people," says Paul.
"He was a friend to virtually everyone at the Matamata track and in racing's wider circle he was able to mix with people at all levels.
"He travelled to the races in the float with everyone else until well into his eighties and he was still a registered stablehand when he turned 90."
Knee and hip replacement surgery were only temporary interruptions to a daily routine, but over the past couple of years health issues meant his trackwork sessions had to be curtailed. However he made a point of dropping in and reconnecting with people he considered his fellow workers and so many other friends on the morning of his 93rd birthday in April.