Harness world farewells one of its all-time greats
By Garrick Knight
9 Feb 2022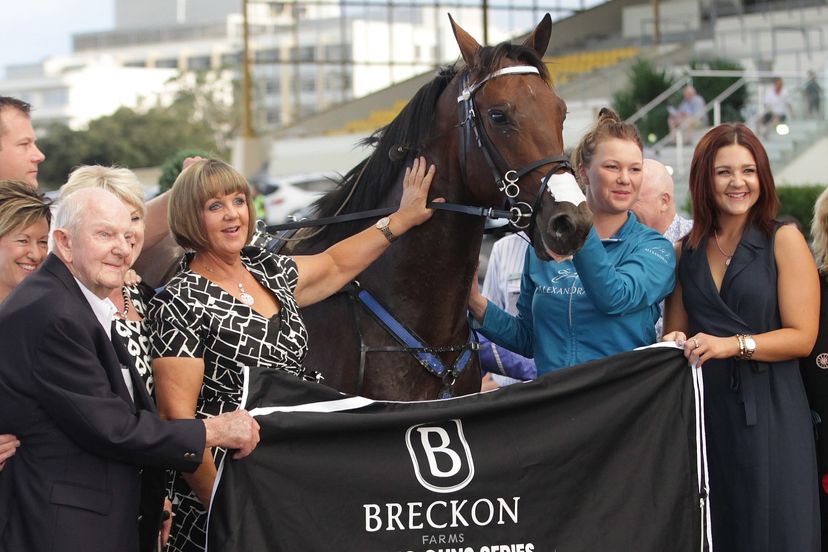 Roy Purdon (left) celebrates with his daughter Suzanne Herlihy and grand-daughter Angela (far right)
The wider harness industry was cast into a state of mourning last week as news broke of the passing of last century's pre-eminent horsemen, Roy Purdon.
Despite being out of the public eye for 25 years after his retirement, his passing just weeks short of his 94th birthday was keenly felt throughout the industry.
Such was his influence, primarily as a trail-blazing trainer but also as the patriarch of easily the country's most prominent and successful racing family, the tributes were as vast as they were effusive.
Purdon had been admitted to Middlemore Hospital only a couple of days earlier but had generally lived his retirement in excellent health and still lived in the Clevedon home he shared with late wife Margaret.
His daughter Suzanne Herlihy said her father's longevity and independence in old age was attributable to a life of hard work and being a family man rather than being a great socialiser.
"Dad was a great worker but he was a quiet achiever and even round the house he was a man of few words. He was very measured, was never a pub person or a big drinker and didn't have a huge social life.
"I'd call him a good Kiwi bloke, solid, and a great provider."
Roy Purdon started working with his horseman father Hugh as a 17-year-old shortly after the Second World War, on a property at New Lynn in Auckland's west before shifting to nearby Mt Roskill then Mangere, where the Auckland Airport is now located, and then Pukekohe.
He decided to work independently and moved to Te Awamutu before returning to Pukekohe in the late 1950s and eventually, the Clevedon property now owned and run by his son Barry, in 1972.
His first really good horse was Sole Command and that brought about his first New Zealand Trotting Cup win in 1977, followed a year later by an Auckland Cup.
Purdon took Sole Command and two stablemates to California on one-way tickets in 1978 and all three were raced then sold, Sole Command doing especially well over there.
By this point he had already won four training premierships (his first in 1971) then, like his father did with him, he took eldest son Barry into a partnership in 1977 and they would win 17 of the next 18 national premierships together, right up until his retirement in 1995.
They were the first trainers to reach 100 winners in a season – in 1986-87 and peaked with 168 in 1993-94, a record that still stands today. All told, Purdon trained 2,019 winners in New Zealand and dozens more across the ditch.
Among his best performers were Chokin, Luxury Liner, Christopher Vance, Il Vicolo, Comedy Lad, Sogo and Ginger Man.
Comparisons between Roy Purdon and thoroughbred training icon Dave O'Sullivan aren't difficult given obvious parallels as champions in their respective codes as well as being the patriarchs of family dynasties.
"Roy was a great trainer and he and I became very good friends as our careers developed," O'Sullivan told RaceForm. "We had a lot of respect for each other and I looked on him the same as I looked on myself.
"It's always sad having to farewell someone, but Roy had a wonderful life and left a mighty legacy."
Purdon was the first Kiwi trainer in either equine code to record 2,000 winners. He was awarded an MBE for services to racing in 1988 and he won the annual Racing Writers' Association Personality of the Year twice, including the month after he retired.
His feature race wins are too numerous to list in their entirety, but with the pacers included four New Zealand Cups, six Auckland Cups, nine Great Northern Derbys (including training and driving Call Boy in 1958), four New Zealand Derbys, three Miracle Miles, an Inter Dominion and a Victoria Cup.
He also won the trotters' Inter Dominion in 1993 with Night Allowance and the Rowe Cup twice.
Upon Purdon's retirement, late harness historian and journalist Ron Bisman best summed up his career.
"It can be said with little fear of contradiction that Roy Purdon was New Zealand's greatest trainer of all."
Nearly 27 years later it's now clear Purdon's greatest legacy won't in fact be his long, trail-blazing career as a horseman.
It will be as a producer and patriarch. Sons Barry (2,587 wins) and Mark (2,409) have now eclipsed him in total wins, Mark seemingly on target to be the first to 3,000 wins in the country and utterly, utterly dominant at levels never seen before.
Grandsons Michael and Nathan are now training winners in their own right, the latter already with eight Group 1 wins under his belt and firmly entrenched across the Tasman.
Fittingly, just a couple of days after Purdon's passing, Spellbound won the Gr. 1 $100,000 Ladyship Cup for Nathan at Melton. In a tearful post-race interview, the 26-year-old reminded racing's faithful that Purdon was more than just a horseman.
"To have Grandad looking down on us tonight was very special. He was a legendary trainer but he was a better grandad to me.
"A great mentor and just a champion person."
Roy Clevedon Purdon is survived by his four children – Barry, Owen, Suzanne and Mark, eight grandchildren and eight great-grandchildren.
His funeral, a small family-only affair, was to be held in Auckland on Thursday.