Group ownership highlighted in Trentham feature celebrations
By Dennis Ryan
1 Feb 2023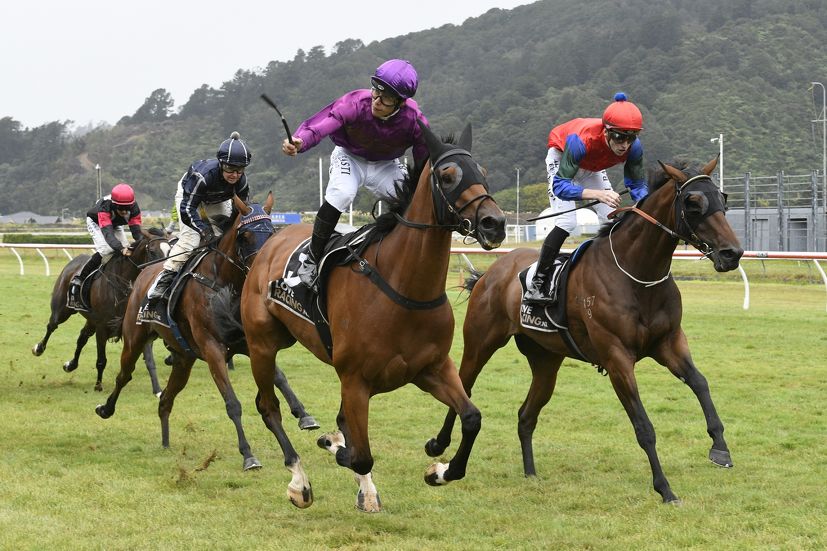 He's A Doozy (Kozzi Asano) caps a big season with victory in the Gr. 1 Thorndon Mile.
High-fives, hugs and handshakes were the order of the day in the aftermath of the two headline races on the final day of the Trentham carnival.
He's A Doozy and Leaderboard, respective winners of the Gr. 1 Harcourts Thorndon Mile and Gr. 3 NZCIS Wellington Cup, have one significant common denominator – they are both raced in multiple ownership.
That was amply evident immediately after each of the big races as the birdcage overflowed with owners and supporters celebrating the ultimate thrill in racing.
That was particularly relevant for the leading players in both ownership groups – He's A Doozy's managing owner Mark Schimack and Fortuna Leaderboard Syndicate principal John Galvin – who both have strong ties to Trentham and the Hutt Valley.
"I grew up in Hawke's Bay but this has been my home for a long time," Schimack told RaceForm. "My partner's late father Brian Avery was closely connected to the Wellington Racing Club and raced a number of top horses – Tawriffic, Al Akbar and others.
"A couple of close friends, Neville and Amanda Thompson, live just around the corner from Trentham and that's where we all ended up for the after-match celebrations. It's unbelievable that He's A Doozy is their first horse and now they've won a Group One and two Group Threes – I'm not sure they realise just how lucky they are.
"But this horse and his owners is typical of so many that Lisa (Latta) gathers around her. There's Craig McNeill, who has been a client of the stable from day one, there's a bunch from the Deep South, others from Christchurch and all round the country."
While He's A Doozy is the first Group One winner for Schimack, he has enjoyed his share of success through his first horse winning five races and others since such as Sir Nate, Galaxy Star and Henry Winkler.
"I like to take 10 per cent in a horse chosen by Lisa and her team and then we pull a group together. It works for me, most times with about 10 people involved, but this one somehow grew to 15, but that's okay, it means a bigger party afterward.
"There are people from all walks of life, all stages of life, we're just a good bunch with a common bond."
Schimack is understandably complimentary of Latta's role in the success he and others have enjoyed.
"Lisa is surrounded by good people and there's such a good vibe the way she makes it all happen. Winning the Thompson Handicap here in the spring and then the Coupland's Mile in Christchurch, then to get him back up to win the Thorndon, that takes some doing!"
Another key player in He's A Doozy's run of form is his regular jockey Kozzi Asano, whose masterclass ride in the Thompson set the platform for what has occurred since.
The Japanese-born 28-year-old, who took time to establish himself after arriving in the country in 2017, took his local tally to 241 wins on He's A Doozy last weekend. And of course his dozen black-type wins now includes a Group One feature.
"Kozzi has really clicked with this horse," Schimack says. "They seem to understand each other and his ride on Saturday was just right given the conditions. They way he ran out the 1600 metres, we're now wondering if he's a genuine chance stepping up over ground for the Herbie Dyke Stakes. That's for Lisa to decide though, we'll just go along for the ride!"
He's A Doozy completed a Thorndon Mile double for his breeders, the Dennis Brothers of Southland. The Zacinto gelding, who Latta paid $70,000 at the 2019 National Yearling Sale, shares a common ancestor in The Dimple with last year's Thorndon winner The Chosen One.
That horse, who covered his first book of mares at Highview Stud last spring, was better known for his wide range of staying performances in some of Australia's best races, but showed another strength when dropping back to 1600m last year.
Godolphin-bred Leaderboard, an American-bred son of Winx's sire Street Cry, gains much of his staying power from his damsire, the leading sire Dynaformer. His progeny include 2010 Melbourne Cup winner Americain, while others were the ill-fated Kentucky Derby winner Barbaro and ATC Doncaster Mile winner It's Somewhat.
Leaderboard's upset win in the Wellington Cup was another feather in the cap of trainer Mark Walker and keen Te Akau supporter John Galvin, whose Fortuna model includes the champion racemare Melody Belle.
"To even have a runner in a major two-mile Cup race in New Zealand is probably a leading aspiration for thousands of racegoers and owners around the country, and to actually win one would seem almost an impossible dream," Galvin said. "For me it was a boyhood dream.
"I was born and raised in Lower Hutt, we lived in Naenae and Trentham was just seven train stops away. My parents were not really racing people, but my grandfather Syd Giles, who lived locally was.
"He had been a leading trade unionist in New Zealand during the 1940s and 50s and had deep connections to the working community in the region. During the Great Depression he had supported his family by running an illegal bookmaking operation - he simply loved racing and was a great form analyst.
"He taught me a lot about the game in my early years, and then when I was at high school (St Bernards College), I had a couple of mates, Leo Leitch and Paul Cassin, who taught me a lot as well.
"I attended my first Wellington cup as a 16-year-old, sitting in the public stand of course, and would look over the fence into the members' area, particularly when presentations were occurring and dreamt of one day winning a big race at Trentham, especially the Wellington Cup.
"I went to the Cup every year while living in Wellington and even after moving to the Waikato, would attend whenever I could.
"I first got involved in ownership in the late 1980s and to be fair I have had my share of winners at Trentham. My first horse, Templequay, won a grade race there in the 1980s and then I did win Group races at Trentham with Kapsdan, Darci Brahma and Melody Belle.
"But up until this year I had never had a runner in the Cup. We did have a couple of potential runners in recent years with Zabene and Chance To Dance, but neither of them made the race in the end. Then in 2022 we thought that Leaderboard was going to be a pretty good chance based on his 2021 New Zealand Cup third, but unfortunately he developed a foot abscess a couple of days before the race and had to be scratched.
"A couple of months later he came out and won the St Leger at Trentham with a determined staying finish and we could only wonder how things might have gone for him if he had started in the Cup.
"Turn the page to 2023, his form leading into the Cup had been nothing to write home about, although he had run a dogged fifth in the New Zealand Cup at Riccarton on a track that was too firm for him.
"He is a horse that loves to get his toe in the ground and as the rain started to fall in Wellington on Friday afternoon, I began to wonder whether my long-held dream could possibly come true. Certainly based on what his TAB odds were showing it didn't look like many others though my dream had much chance? The Leaderboard Syndicate has close to 70 members and about 25 were on course on Cup Day and were soaking up the atmosphere despite the indifferent weather.
"Tiger as he is known around the stable, was a standout in the birdcage, his exhibition gallop at Matamata on the previous Wednesday on a Soft 7 surface had been superb and so I just wanted to see Joe Doyle ride him relatively handy, bring him into the race from about the 800 and get him to the outside if possible – and amazingly that was just how it panned out and the dream had come true.
"I had bought this horse at the 2018 Tattersalls Horses In Training Sale, with the assistance of bloodstock agent Hubie de Burgh, with the intention of winning just this sort of race. While it took us four years to do so, it proves that patience is indeed a virtue and the winning outcome gave me and Jessica, our great crew of owners and Joe Doyle an amazing experience.
"Full credit also to our trainer Mark Walker, who had never won a Wellington Cup previously – he pulled out every card in the pack to get Leaderboard in the right condition to be a genuine winning chance."
Galvin was active alongside Te Akau principal David Ellis at this week's Karaka sales, settling on a Star Witness filly at $80,000 and an Eminent filly at $70,000.
"We picked up a two-year-old type and a staying type, so I was happy to add them to the Fortuna portfolio," he said.