Emily Farr enjoying the ride with Chief Sequoyah
By Liz Whelan
12 Aug 2021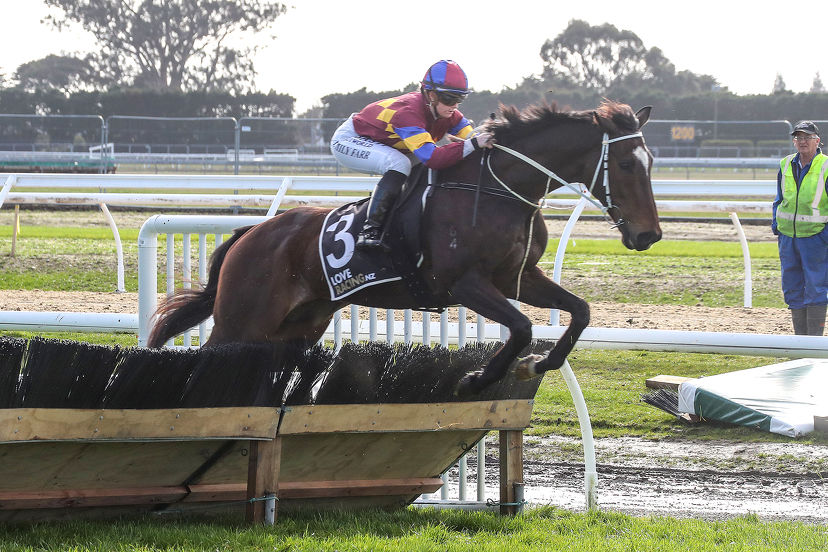 Emily Farr and Chief Sequoyah combined to win the Avon City Ford Sydenham Hurdles last Saturday
"I sing on the way to the start. I sing in the gates."
Chief Sequoyah's remarkable jumping prowess was re-confirmed on Saturday when he won the Avon City Ford Sydenham Hurdles at Riccarton Park by five lengths, and at the time of print, he was priced up at $2.30 to win Wednesday's Hospitality New Zealand Canterbury 131st Grand National Hurdles.
And his jockey, Emily Farr, couldn't be happier about her association with the horse.
"It's been great to be on this journey with him," she told RaceForm on Tuesday.
"He's had massive potential obviously from when he was a flat horse, so it's great to have him progress into higher stakes races now against some competitive horses.
"I have to ride him quite patiently, and he switches off beautifully on a heavy track. You've got to believe and trust in his ability, and obviously being a John Wheeler horse, you know that he's been taught so well and the jumping is never going to be an issue.
"So, it's just about getting him into a nice rhythm, settled and breathing well beneath you."
Farr could have taken the easy option and stayed down in Christchurch until Wednesday, but she instead chose to fly home after the races on Saturday night, such is her work ethic.
"I rode work on Monday and today (Tuesday). My bosses are Emma-Lee and David Browne, and David's gone over to Australia with Elephant and a couple of others, so it was just me in charge today.
"I rode about 17 horses this morning and 16 yesterday. I ride a lot of trackwork and I'm very privileged to be working for Cody Cole and also the Brownes."
Farr hails from Wales originally and first came to New Zealand nine years ago.
"I came over for a six-month placement at University initially. I went home and finished my degree in equine science, and then came back to New Zealand for good. New Zealand's my home now, I've been here for a long time."
And while she is now firmly entrenched in the racing industry, she nearly went down a completely different career path.
"I did a lot of musical theatre when I was in high school; a lot of tap dancing, ballet, jazz and singing. I was passionate about it and I still am.
"I actually auditioned to get into Mountview in London (one of the UK's leading drama schools), and got through the first couple of auditions. But it was going to be pretty expensive to live in London and attend the school, especially to potentially have a career that wasn't set in stone.
"I knew I'd have to be 100 per cent committed to it, but my heart was always in horses – Mum and Dad were both jockeys. I love horses more than anything."
Farr still sings whenever she can – including on raceday.
"I sing on the way to the start. I sing in the gates. A lot of the others get fed up on our car journeys, I'm like a one-man show on the way home," she laughs. "Reece Cole, Barry Donoghue and Kelly Joyce have all copped it on the way home recently!
"For a little while, I went to the Hamilton Operatic Society. I auditioned for Les Mis, and I did that for a couple of months, but with the early mornings and late-night rehearsals, it all got too much while I was trying to be an apprentice and wasting.
"It's something I'd love to keep going with. I do a lot of karaoke! My go-to karaoke song is 'Girls Just Wanna Have Fun' or 'Power of Love'. I'm always singing!"
And with her performance background, Farr took to a stint of guest-presenting on Trackside several years ago like a duck to water.
"I really enjoyed doing that – I'm very passionate about what I do, and because I've always been on stage and had the experience of being in front of large audiences, it's something that I found quite natural. It's a path I'd love to pursue down the track eventually, if it's possible."
Farr is well-versed in both jumps and flat riding, and while she has great respect for flat jockeys, it's clear that her love is for riding over the jumps.
"Riding over fences is something that I can't really describe," she says.
"When you sit on a horse like Chief Sequoyah or Gobstopper, jumping gives a horse another string to their bow. It's a passion.
"Learning to ride tactically over the flat in fast races as an apprentice helped me a lot, especially with thinking about where you're positioned in a race. I chose jumps racing over the flat, but I have massive admiration for flat jockeys, riding that fast, and people like Jonathan Riddell and Trudy Thornton, who have done both."
Footnote: At the time of print, the Hospitality New Zealand Canterbury 131st Grand National Hurdles had not yet been run.