Cropp keeps it in the family with Great Northern win
By Dennis Ryan
7 Oct 2021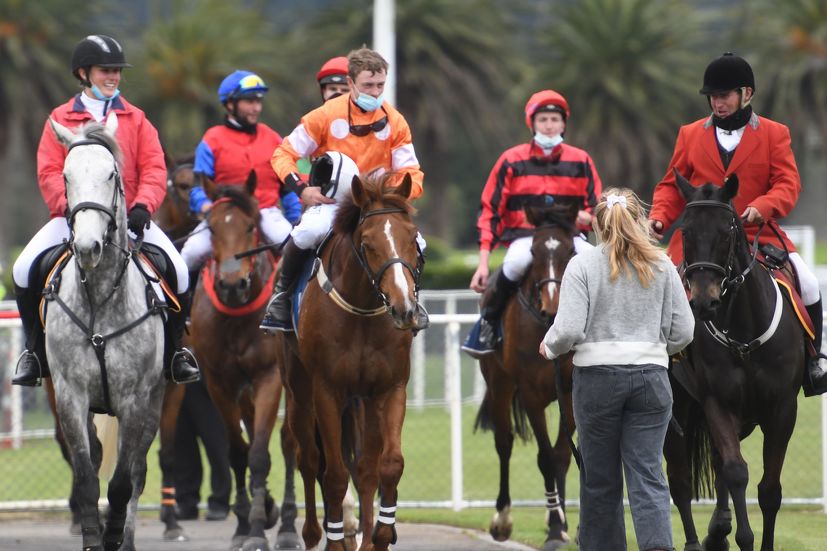 After winning the Diprose Miller Great Northern Steeplechase, Te Kahu and Mathew Cropp are escorted
Another chapter in the Cropp family's Great Northern Steeplechase story was written on Sunday when Mathew Cropp partnered Te Kahu to victory in the 2021 edition at Te Aroha.
Veteran Cambridge horseman Ron Cropp will forever be remembered as the trainer of legendary 'chaser Hunterville, who in 1985 became the first horse to win the great race three times. Ron is now joined by his jockey grandson Mathew on the Great Northern honour roll, and even though it wasn't at Ellerslie, it means just as much to the 30-year-old.
"I can now say I've won the big three – the Great Northern, Grand National and Wellington – now I want win the Great Northern Hurdle to go with my Grand National and Wellington Hurdles," Cropp told RaceForm earlier in the week.
Cropp's Grand National Steeplechase and Hurdle wins came within days of each other in 2013, on the John Wheeler-trained El Patron and the Mike Austin-trained Joint Effort. He won the first of two Wellington Hurdles on the Ken Duncan-trained Wee Biscuit in 2015 and again the following year, when he also won the Wellington Steeples on the Aaron Bidlake-trained Eric The Viking.
His association with Te Kahu's trainer and part-owner, Marton dairy farmer Dan O'Leary, is not a long way, but very fruitful all the same. Te Kahu finished third in two starts over the Ellerslie hill last year and after wins earlier this year at Te Aroha, all three of the Zacinto gelding's wins have been over the Thames Valley track's steeplechase course.
"It would have been nice to have won the Great Northern over the hill," says Cropp. "I think Te Kahu is a real hill horse, he's got that low head carriage and just keeps going.
"The first time I rode him I said to Dan that I thought he was a Northern horse. I guess I was right, just not the way I thought it would turn out!"
O'Leary, a member of the racing-embedded family with its roots in the Wanganui region, is best-known as one of four brothers to have raced the marvellous stayer Who Shot Thebarman. He did the early work on the son of Yamanin Vital before handing him on to Mark Oulaghan and then Chris Waller, and as a trainer in his own right has prepared the winners of 17 races over the past decade.
Te Kahu, a descendant of the iconic broodmare Dulcie and purchased by O'Leary for $15,000 from a Karaka weanling sale, is his biggest winner. Plans are already being considered for an Australian campaign next year, with a race like the Grand Annual Steeplechase over 5500m at Warrnambool one that has a particular appeal.
"I can just see him loving a race like that," says Cropp. "He's such a good stayer and a safe jumper, it should be right up his alley."
Like his grandfather and his father James before him, Cropp's day job is a huntsman, which entails managing a pack of harrier hounds and the horses that go with them. Until recently he was employed as the Waverley-based huntsman for the Egmont-Wanganui Hunt, but just last week he relocated north with his partner Tiffany and their three-year-old daughter Charlotte to take the same role with the Northland Hunt.
"I've covered a fair bit of territory the past week," he said. "There was the move to Tangiteroria, which is between Whangarei and Dargaville, and then I went back down to Cambridge the night before the Northern and stayed with my grandparents Ron and Kay.
"I went back that night and it was pretty emotional catching up with everyone after what had just happened. Ron's 87 now but he's keeping really well, still getting around the cattle and things on their farm."
Adding to the emotion of his Great Northern win, Cropp and Te Kahu were escorted back to the winner's stall by not one but clerks of the course – his father James and cousin Victoria, whose mother is former champion jockey Lisa Cropp.
"That was great," says Cropp. "Even though we couldn't have everyone there to enjoy the day, Dad and Victoria were there as officials."
Australia now strongly beckons Sunday's other big winner, the Paul Nelson/Corrina McDougal-trained The Cossack, who completed an incredible set of feature wins over brush – back-to-back Great Northerns bookending the Waikato, Wellington and Grand National Hurdles.
After the Mastercraftsman gelding had won last month's Road to Jericho 3210 on the flat at New Plymouth, The Cossack's connections had the option to bypass Sunday's race in favour of the Jericho Cup at Warrnambool, but he has now gone to spelling paddock after proving himself as one of our best ever hurdlers.