Clothier-Weatherley relationship thriving alongside star performers
By Dennis Ryan
5 Apr 2023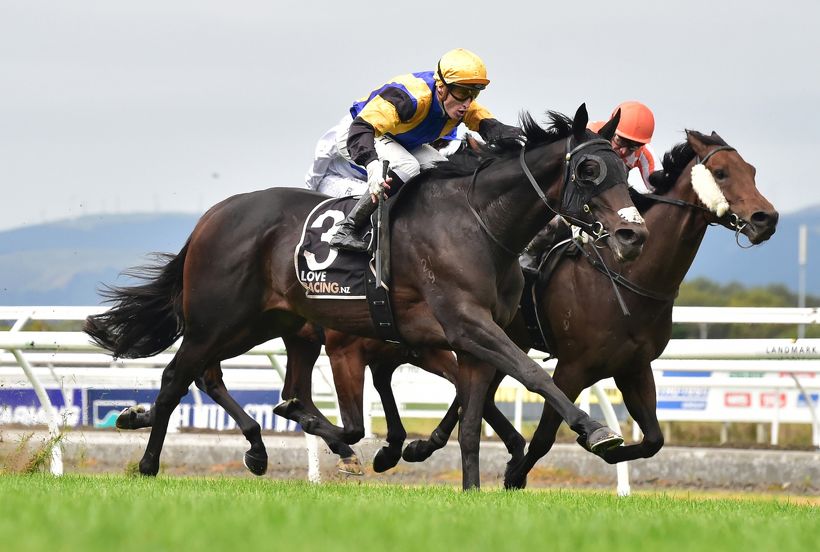 Arby (Sam Weatherley) claims another big win for the Clothier family with his victory in the Manawat
Black-type wins over the past fortnight by the half-brothers Ess Vee Are and Arby have strengthened long-standing bonds between the Weatherley and Clothier families.
Both Matamata entities have a long history in racing and have come together over recent times to now be enjoying a feast of success with the highly promising young stayers Ess Vee Are and Arby.
The Clothier-owned and bred Ess Vee Are, a four-year-old by Shocking, signed off his season with victory in the Listed New Zealand St Leger at Trentham in mid-March, but the post-race headlines centred more on the kick he landed on his co-trainer Darryn Weatherley's upper thigh.
After spending the next three days in hospital with a ruptured femoral artery, Weatherley was able to return home and be back on duty in the lead-up to last Saturday's Awapuni meeting, where Proisir three-year-old Arby emulated his older sibling with an impressive win in the Gr. 3 Manawatu Classic.
Stablemate Maria Farina had completed a stakes double for Weatherley and his training partner, daughter Briar, when she won the Listed Lightning Handicap at Trentham and she followed up with a third placing in the Listed Flying Handicap at Awapuni.
The boutique Weatherley stable is having a vintage season centred on the above three horses as well as their absolute highlight, victory in the Gr. 1 New Zealand 2000 Guineas with Pier. After last weekend their 2022-23 tally stood at 15 wins from 83 starters and five black-type wins.
"It's been one hell of a season, something we never imagined only a few months ago," Darryn Weatherley, who took his 21-year-old daughter into partnership in August, told RaceForm. "We've been so lucky to have some wonderful owners behind us, the Clothiers and another longtime friend, Barry Wright, who is our partner in Pier and Maria Farina.
"I'm proud to think that those five black type races have been won by four different horses. There have been big offers for all of them and the only one we took up was the 25 per cent interest in Pier that Lou (wife) and I sold to Ozzie Kheir.
"We're just lucky that our owners decided to keep their horses and it's great to be able to pay them back like this."
Ess Vee Are and Arby are out of the O'Reilly mare Reiveke, who was bought as a yearling in 2016 by the Clothiers' then Matamata-based trainer John Sargent. At the same time Sargent was preparing the New Zealand Oaks winner Miss Mossman for the same connections, which at that point included family patriarch Bruce Clothier.
Sadly he passed away in October 2017, but his memory remains strong through the major trucking company he established, Waharoa Transport, and the racehorses that are now part of his legacy.
The family racing and breeding entity is known as RBC Racing, commemorating the name Robert Bruce Clothier, and Arby is likewise named in his memory, while Ess Vee Are is derived from the Christian names Sarah Victoria Rose of Bruce's widow.
"We've been family friends for years," Weatherley added. "Back when Sarge was training for them I was doing a lot of his breaking-in and pre-training and the training side of our business has grown since Sarge went to Sydney.
"Selling proven racehorses is all part of it, but having owners who would rather hang onto them, that's what has put our stable on the map."
The Clothier family has been linked to racing for generations, all the way back and even further than the 1931 Mitchelson Cup win by Prince Val, who was owned by Bruce Clothier's grandfather James. During the 1960s Bruce Clothier raced the tough winter galloper Khorazami, who was trained by his father-in-law Albert Boyte, while 50 years after Prince Val, the Mitchelson Cup was won by Tamaryn, who was raced by Bruce Clothier and close associate Bob Hedley.
Other horses raced by the partners included Tamaryn's half-sister Prefer, who won the Taumarunui Cup, talented mare Gypsy Invader, the winner of the Victorian provincial Kyneton, Pakenham and Moe Cups, and her son Oregon Power, whose career highlight came in the Gr. 1 Easter Handicap.
"There have been a lot of big wins in those colours over the years and just lately it's been brilliant," says Bruce Clothier's son Craig. "In some ways it's been a long time coming but you take the wins when they happen.
"It's a real pity that Dad's no longer around to be part of it, but we know he would have loved to see this all happening and it's been great for Mum and the rest of us.
"We've had some big offers for Ess Vee Are and Arby, but we don't want to sell them, we'd much rather be part of it and enjoying it all."
Arby, Proisir's 13th black-type winner, was followed by another Proisir colt that was sold at last year's National Yearling Sale for $70,000 to Victorian trainer Patrick Payne, while Reiveke's next foal, a colt by Vadamos is being broken in. She also has a Vadamos weanling filly and is booked to the most recent emerging member of the Rich Hill Stud roster, Satono Aladdin.