Cantankerous pair save their best for the racetrack
By Dennis Ryan
17 Mar 2022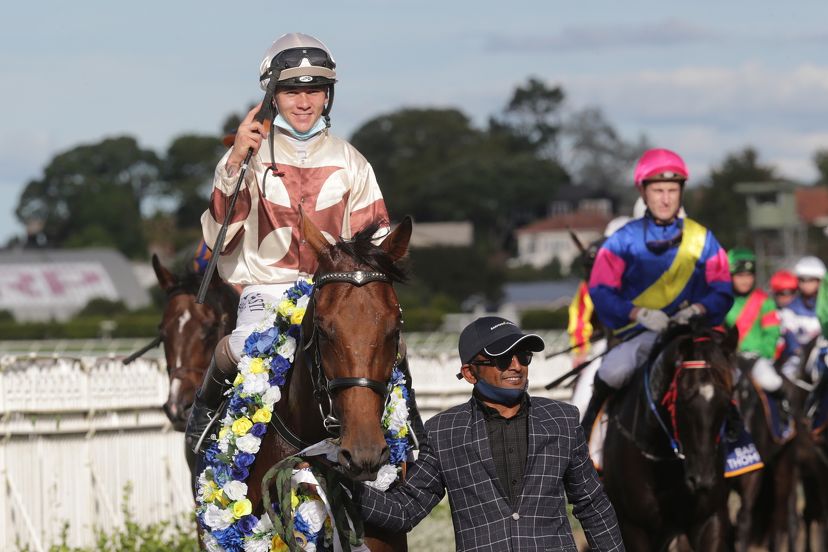 Auckland Cup winner Uareastar returns to the Ellerslie birdcage after an inspired Wiremu Pinn ride a
"I knew it was a gamble, but she's so tough and such a natural stayer, I thought I could get away with it."
Cantankerous became the new buzzword at Ellerslie on Sunday when Coventina Bay continued her standout season with victory in the Gr. 1 Bonecrusher New Zealand Stakes and the unheralded Uareastar outshone the favourites in the Gr. 2 Barfoot & Thompson Auckland Cup.
New Plymouth trainer Robbie Patterson was first to use it when referring to Coventina Bay as "a cantankerous little sod" after his tough mare had completed a weight-for-age double to go with last month's Gr. 1 Herbie Dyke Stakes win with a dominant repeat performance over Te Rapa placegetters Vernanme and The Chosen One.
One race later Marton colleague Fraser Auret took that vernacular to an even more explicit level when he described Uareastar as "a cantankerous bitch" after her extraordinary display of stamina to down topweights Concert Hall and Sound in the 3200-metre Auckland Cup.
While anyone less familiar with racing tuned into the live broadcast of Ellerslie's big raceday might blanch at such descriptive terms, those closer to the action would nod knowingly at the emotion behind such terminology.
Both Patterson and Auret have nothing but respect and admiration for their current stable flag-bearers, and as anyone who has had to suffer a less than perfect equine temperament would agree, if the rewards come on raceday, their well worth the grief.
Even before Coventina Bay's Group One breakthrough at Te Rapa, she was regarded as one of the country's best racemares. Now with 11 wins from 22 starts and stakes nudging $700,000, the daughter of Shamexpress has further major targets on her agenda. Next stop is the Gr. 1 New Zealand Thoroughbred Breeders' Stakes at Te Rapa in early April and beyond that a return trip to Queensland with the Gr. 1 Doomben Cup her prime goal.
Uareastar had nowhere near the same profile when she arrived at Ellerslie on Sunday, having never ventured further north than Te Rapa, where she was a winner last autumn in the final start of her four-year-old campaign. The Jakkalberry mare's best results from her previous 14 starts were a third placing in the Listed Marton Cup and fifth in the Gr. 3 Wellington Cup, and those two January races were in fact her final lead-up to her big Ellerslie test.
"I knew it was a gamble, but she's so tough and such a natural stayer, I thought I could get away with it," Auret said, shrugging modestly, as the lean bay returned to the winner's stall on Sunday afternoon.
What made that light preparation even more extraordinary, was the manner of Uareastar's performance as her apprentice rider Wiremu Pinn elected on a mid-race move to eyeball the leader rather than be left parked wide.
The wisdom of that tactic was there for all to see as Uareastar kept finding, even when the crowd favourite Concert Hall came with her challenge, and at the line the margin was a defiant head.
Auret, who grew up in a very successful Wanganui racing and breeding family, operates from the former Marton racecourse which is now in his private ownership. Since taking out his licence in 2006 he has prepared more than 300 winners, headed by the Group One stars Julinsky Prince and Aide Memoire.
At 23 years, Wiremu Pin has had a briefer but rather more chequered career, with stints during his apprenticeship at a number of stables and now under the mentoring of young Matamata trainer Daniel Miller.
His troubled life seems more settled now, and the rewards of his diligence have been obvious, with a breakthrough Group One win on Mascarpone in last month's El Cheapo Cars WFA Classic at Otaki and now due much of the credit for an unlikely but utterly deserved victory in the Auckland Cup.
Pinn rode 32 winners in his first two seasons, then returned from a two-year break to add another 39 last season. The 2021-22 season is well on the way to being his best with 32 wins taking him past the century mark.