Bruford enjoys both sides of industry involvement
By Dennis Ryan
7 Dec 2022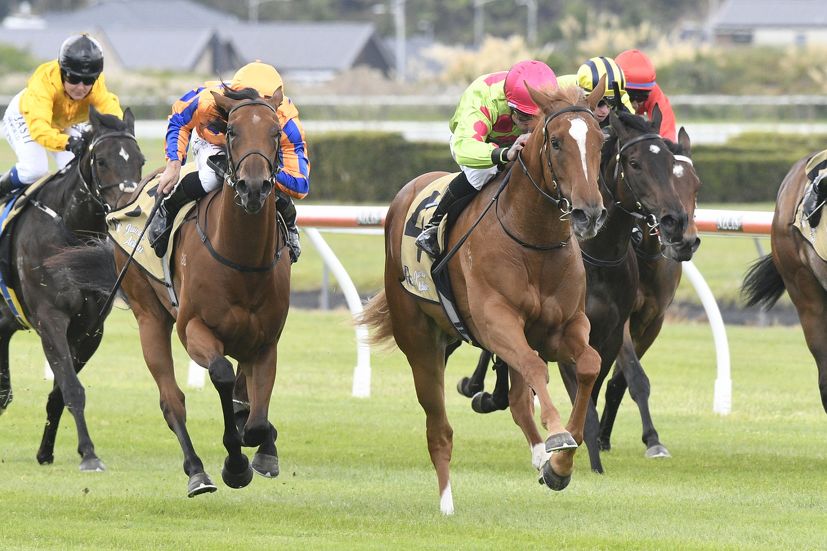 The Jim Bruford-part-owned Impendabelle (Michael McNab) remains unbeaten with an impressive victory
Three decades of involvement in bloodstock insurance combined with successful racehorse ownership provide Jim Bruford with a well-qualified perspective of the racing industry.
Bruford joined New Zealand Bloodstock close to 30 years ago when insurance was still being developed as part of the full suite of services provided by the country's major sales company.
He headed NZB's insurance division until 2017, stepping back while Mark Lock moved up the ladder but remaining within the network as an adviser.
Bruford can look back with a mixture of pride and satisfaction, not only at the important service that NZB Insurance provides to the industry but also at the role that his department has played in NZB's massive support of racing and breeding through sponsorship.
"I believe it's fair to say that New Zealand Bloodstock through its various operations has more than carried its fair share of the weight in supporting the industry," Bruford told RaceForm.
"I've absolutely enjoyed having the support not only of the company I've worked for and our clients, but our UK-based under-writers who have been crucial in providing what I believe is this country's best bloodstock insurance provider.
"We have capably supported a decade-long sponsorship of the New Zealand Thoroughbred Breeders' Association's Pearl Series, sponsoring over 100 Pearl Series races for fillies and mares racing each season.
"We are also sponsors at the majority of leading race meetings throughout the country and avid contributors to NZTBA branch functions."
Bruford has enjoyed numerous wins as a racehorse owner himself, the most recent with highly talented filly Impendabelle, who staked her claim to juvenile supremacy with her stylish victory in last Saturday's Gr. 2 Mode Technology Wakefield Challenge Stakes at Trentham.
Having won on debut on the same course in October, the Monovale Holdings-bred daughter of Impending was the favourite to remain unbeaten and overcame a less than ideal run in transit to win well under Michael McNab. The Tony Pike-trained chestnut is now a leading prospect for the Karaka Million 2YO scheduled for Pukekohe in January.
"It was a bit of a nervous watch but she did it well in the end," said Bruford. "She's one of 10 yearlings I bought at the National Yearling Sale and then syndicated, so it's great to see the first of them to race performing so well."
Bruford's attention also remains firmly on NZB's ongoing sponsorship initiatives, which currently include a further incentive for New Zealand-based trainers wishing to purchase at its Karaka 2023 National Yearling Sales Series, held from 29 January to 3 February.
Six race meetings throughout the North Island have been selected for the Karaka 2023 Trainers' Series, with incentivised prize packages awarded to domestic trainers in the lead up to NZB's National Yearling Sales Series next summer.
The Series is a continuation of NZB's successful 2022 Ready to Run Sale Trainers' Series, which resulted in several winning trainers attending and furthermore purchasing at the leading Sale of Two-Year-Olds.
Working with long-time partners Majestic Horse Transport, NZB will award the winning trainer of each sponsored race the following prize package:
• A $500 travel voucher towards travel to NZB's Karaka 2023 National Yearling Sales Series.
• A $1000 insurance voucher towards insurance for one Karaka 2023 National Yearling Sales Series purchase, courtesy of NZB Insurance.
• A $200 Majestic Horse Transport voucher towards the transport of one Karaka 2023 National Yearling Sales Series purchase, courtesy of Majestic Horse Transport.
The first of the Karaka 2023 Trainers' Series race sponsorships was scheduled for this Wednesday at Hastings. The full complement of races in the Trainers' Series is listed in the accompanying advertisement on this page.