Blue Diamond win further kudos for Per Incanto
By Dennis Ryan
2 Mar 2023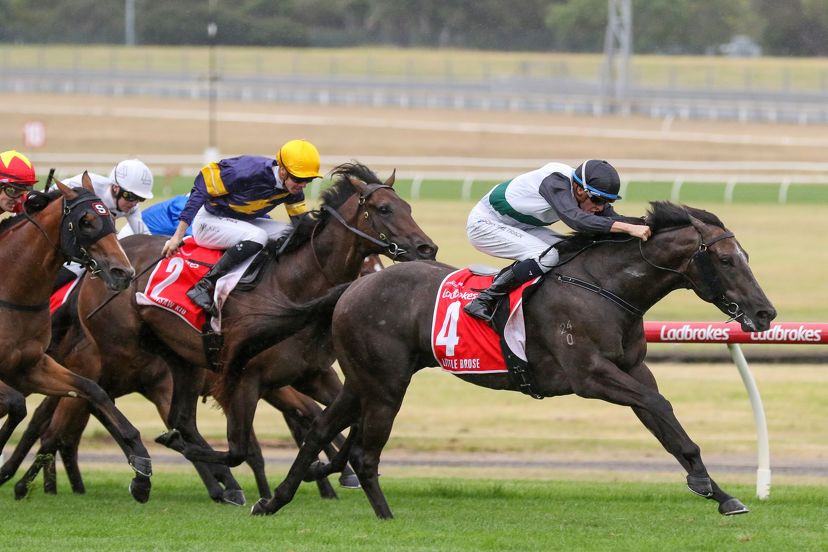 Little Brose puts another stake in the ground for his sire Per Incanto as Mick Dee rides him to vict
Per Incanto, already recognised as one of the major contributors amongst New Zealand stallion ranks over the past decade, entered rarified territory when his son Little Brose won last Saturday's Gr. 1 Blue Diamond Stakes at Sandown.
Little Brose became just the second New Zealand-sired horse to win Victoria's premier two-year-old race after Pompeii Court filly Courtza way back in 1989. Waikato Stud-bred Courtza, who was to become the dam of Hall of Fame stallion O'Reilly, went on to seal champion juvenile honours by adding the Golden Slipper Stakes in Sydney.
That race, scheduled for March 18 at Rosehill, is on Little Brose's agenda, but for now Little Avondale principal Sam Williams is content to reflect his resident champion's latest landmark achievement.
"We're just so proud of him," Williams told RaceForm after returning from Melbourne, where he had been trackside also for the autumn reappearance of his own headlining Per Incanto, dual Flemington Group One winner Roch 'N' Horse.
"Our faith in Per Incanto goes back to the very start and he just keeps raising the bar. Siring the winner of one of Australia's very best two-year-old races proves again how important he is, not just for us but the New Zealand breeding industry."
Per Incanto, an American-bred son of Street Cry – best known for his outstanding daughters Winx and Zenyatta – arrived at Little Avondale in 2011 as an Italian Group Three sprint winner. From a first-season fee of $4,000, early success that included first-crop Group One winner Dal Cielo pushed his fee up gradually and by 2020 it had reached $15,000.
A continuing trend took him to $25,000 in 2012 and this time last year it was announced that Per Incanto's fee would double to $50,000.
Such an increase – one that made the rising 19-year-old New Zealand's second equal most expensive stallion alongside Almanzor behind Savabeel – is rare, but it had a dual purpose.
"That's what we felt was his value and besides, the time had come that we were wanting to reduce his workload and get the best from him for the years he has left," Williams said at the time.
From highs of 143 mares in his debut season, 149 in 2005 and only twice below 100, Per Incanto covered 105 mares last spring and it's virtually guaranteed that the demand for his services will not have lessened.
"He ended up with 91 mares in foal, so his fertility is as good as it's ever been," Williams added. "People are still waking up to him, and now that means they also see him as a sire source.
"At the races on Saturday I had Australian breeders asking what his fee will be this year and when I said it will probably stay the same, they're even keener about sending mares.
"We've had mares from Australia go to him in the past, but it reminds you what a stallion he is to see the level of interest in him now."
Little Brose's success is gladly shared with his breeder, long-time Williams family friend David Wallace, whose own family is centred on another long-time Wairarapa breeding entity, Ardsley Stud.
"We're so thrilled for David, he's very successful in his own right, both in business and breeding, and this has come at a good time after he recently lost his dear wife Maddy," Williams said.
"It's great for the Hayes boys (Ben and JD, trainers) too, there's so much heritage in their family and seeing two young guys now adding their own chapter is fantastic."
Little Brose, a grey son of the American-bred mare Mohegan Sky, was offered at last year's Gold Coast Magic Millions Sale, where he was claimed for A$200,000 by renowned New Zealand-based agent Dean Hawthorne.
"The Hayes boys decided to bring Dean on board to advise them in their buying, so what a result this is, it just adds to a great story!"
Roch 'N' Horse, who was forced by a minor race morning issue to miss the previous week's Gr. 1 Lightning Stakes, was less of a force in the Gr. 1 Oakleigh Plate on the unfamiliar Sandown Hillside course, but Williams returned home confident there's still more to come from the classy sprinter.
Also looming on Little Avondale's horizon is a select draft for next month's Sydney Easter Yearling Sale, which includes the progeny of Per Incanto, Savabeel, Pierro and Too Darn Hot.