A special week through the eyes of one lucky owner
By Richard Edmunds
17 Nov 2021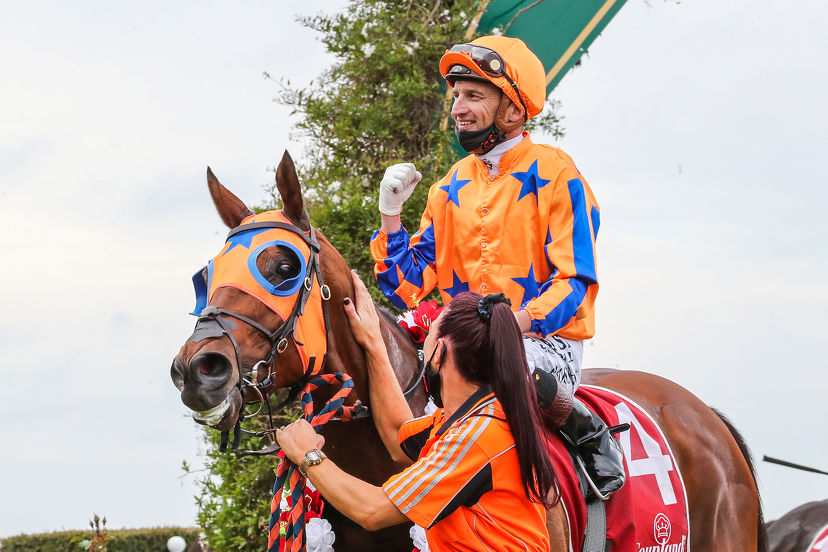 The Coupland's Bakeries Mile win by Markus Aurelius was just one big result for Te Akau Racing hea
Since the days of King's Chapel and Darci Brahma in the early 2000s, Te Akau Racing have regularly run rampant during Christchurch racing's biggest week, but even by their standards the 2021 New Zealand Cup Carnival was something very special.
Starting with valuable colt Noverre in the 2000 Guineas and capped a week later with The Perfect Pink leading home an incredible first four in the 1000 Guineas, it was total domination of the Riccarton features by Te Akau, trainer Jamie Richards and jockey Opie Bosson.
Te Akau have now won 13 Guineas races at Riccarton in the last 18 years, while for Richards, it was a case of coming full-circle to complete a career milestone. Back in 2015, he celebrated the first and second Group One victories of his career as Xtravagant and Risque provided a spectacular double. Six years later, Noverre and The Perfect Pink repeated that achievement to deliver Group One victories 49 and 50.
"It's been a whirlwind last five or six years for a young fella that grew up in Dunedin," Richards reflected on Saturday. "Being a southern boy, bringing up that milestone in the South Island makes it a really special day.
"I've got a lot of people to thank for the position I am in. It's not just about me, it's about the amazing bunch of staff and the owners and everyone who is involved."
For good measure, Richards, Bosson and Te Akau also dominated the middle day of the carnival. All three starters were winners, including Markus Aurelius in the Gr. 2 Coupland's Bakeries Mile and Summer Monsoon in the Gr. 3 Stewards' Stakes.
These are remarkable results in anyone's language, and an extraordinary week for everyone involved. That includes each winner's big contingent of owners, some of whom were able to be part of a restricted on-course attendance that Riccarton welcomed for each day of the carnival. That included this writer, a small shareholder in Markus Aurelius.
It is far from ideal for a journalist to be left lost for words, but that is precisely what has happened through the majority of the last week.
Not every racehorse ownership opportunity falls within the price range of a journalist, but at the 2018 South Island Sale, David Ellis secured Markus Aurelius for just $13,000. Likely more by luck than any expert judgement, I decided to sign up for a small share in the White Robe Lodge-bred son of Ghibellines, and the three years since have been extraordinary.
The rangy bay began his racing career as an autumn three-year-old in early 2020, placing in his first two starts before winning a midweek maiden at Matamata, and it was soon clear that we had a horse who would at least pay his way.
But Markus never stopped developing, strengthening and improving, racking up five wins as a four-year-old across Riccarton, Te Rapa and Ellerslie.
The bubble burst when he was unplaced as a hot favourite in the Gr. 2 Easter Handicap at Ellerslie in April, but his trainer was unfazed, putting it down to wheels spinning in unsuitable wet ground. He turned the page and immediately began working backwards from the Coupland's Mile, all of seven months in the distance.
Still in the midst of the largely uninterrupted Level 1 lifestyle that New Zealand had enjoyed for many months of the Covid pandemic until that point, the idea of a November holiday in Christchurch for me and my partner Pippa came to mind.
Everything changed with Delta's unwelcome arrival in August, but we were fortunate enough to be in a part of Northland still in Level 2 when November rolled around, and the prospect of a direct flight from Whangarei to Wellington, then to Christchurch, kept our dream alive.
That dream grew more and more shaky in the face of a series of Covid scares in both Northland and Christchurch, but the alert levels remained as they were, and we went ahead and confirmed our bookings. Multiple negative Covid tests reassured us that we would not be taking the virus with us to the South Island.
There was a further twist as fog-related flight cancellations held things up by two full days, but through it all, we finally made it to Riccarton and took our place among a crowd that was restricted in numbers but not lacking in atmosphere.
Not before time, all of that pre-departure uncertainty then shifted to the horse himself. While Markus Aurelius had proven himself at the course and distance, and he had produced strong finishes in his lead-up appearances, the questions were obvious – could he make the step up to Group Two level and beat a talented field with 57.5 kilograms on his back, and could he do it from the extreme outside gate?
And then, after spearing forward through the early stages of the race to take a sit just off the leader, would he have enough energy left in the tank for the business end?
Thanks to Richards having him trained to the minute and Bosson's masterful ride, the answer to all of those questions was an emphatic yes.
Years of witnessing the jubilation close up as a journalist have taught me that winning owners react in a range of ways. Some scream and shout, some jump up and down, some immediately reach for their cellphones, and some hug whoever is within arm's reach. But these two introverted Northlanders did none of those things, instead sitting still in the grandstand in a dumbfounded disbelief that has lingered ever since.
The career of Markus Aurelius, and particularly that remarkable Wednesday at Riccarton Park last week, has provided the latest in a long line of illustrations that racehorse ownership – no matter what the scale – can deliver a thrill unlike any other.